You Can Now Donate to the Ahmed Mohamed STEM Scholarship Fund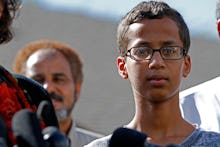 On Wednesday, the story of Ahmed Mohamed erupted online. The 14-year-old from Irving, Texas, was suspended from MacArthur High School and arrested after he brought a homemade clock to school that a teacher mistook for a bomb.
After the story went viral and gained widespread support, Mohamed's family created a LaunchGood initiative on Wednesday seeking to add some cold hard cash to the teenager's newfound fame. The #IStandWithAhmed campaign hopes to raise money to support Mohamed and others like him with a scholarship to pursue their education in a STEM field. 
Within hours of its creation, the campaign raised more than $7,500 and appears well-positioned to reach a stated $100,000 goal by the end of the fundraising period in 27 days.
The campaign's official page read, in part:
The funds will be used to help Ahmed further his education and to help other curious students like him interest in STEM fields have access to MakerSpaces where they can use high tech equipment like 3D Printers, CNC Machines, and all sorts of other cool stuff. Young curious minds are not a threat. As a nation, let's support our youth in increasing their competitiveness in science and technology development because this is what will make out country strong.
According to the campaign, 50% of the funds will be allocated to Mohamed, while the other 50% will be given to other promising youths toward a one-year scholarship to MakerSpace. 
The funding campaign was only the latest in an outpouring of support for the embattled teen. Throughout Wednesday, the hashtag #IStandWithAhmed was heavily trending, with both President Barack Obama and leading Democratic presidential candidate Hillary Clinton tweeting their firm support. 
While Mohamed previously told the Dallas Morning News that the experience made him feel inhuman, his tone was markedly different at a Wednesday afternoon press conference in Irving to announce the charges against him had been dropped. 
"Don't let people change who you are," said a smiling Mohamed, flanked by well-wishers and his family.
Mohamed says he's considering plans to transfer out of MacArthur High to another academic environment.