Donald Trump vs. Carly Fiorina: Who Won the CNN Republican Debate?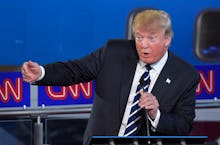 While the polls will ultimately illustrate who triumphed (and who fumbled) during their performances at the CNN Republican debate, social media users quickly called out their opinions on Wednesday night's real winners. One candidate was a cut above the rest — and it wasn't real estate tycoon Donald Trump.
Twitter users instead took notice of former Hewlett-Packard CEO Carly Fiorina, the only woman in the 16-member Republican field. Fiorina, who was annexed to the "happy hour" debate in August due to lowa poll numbers, fought her way to Wednesday's top-tier debate and appeared emboldened by her initial debate surge. 
Debate viewers took notice of Fiorina's charisma: 
In fact, the two most-tweeted moments of the debate involved Fiorina. Her answer to a question about Planned Parenthood drew loud cheers from the Republican and conservative audience members, Business Insider reports. 
It was a rise to fame few saw coming. "[Fiorina] was the surprise star last month despite being relegated to the lower-tier debate," NPR reports. "But her impressive performance was enough to boost her in the polls and catapult her onto the stage — after CNN bowed to pressure to revise their criteria to include her late surge." 
CNN had changed the criteria for who would be allowed to participate in the main debate, bringing the number of candidates appearing on the main debate stage to 11. 
Trump may have been the standout candidate, for better or worse, of the first Republican debate. However, the GOP front-runner who has consistently polled stronger with voters than any other candidate took a backseat to Fiorina on Wednesday. 
One of the debate's biggest showdowns came when moderator Jake Tapper asked Fiorina how she felt about Trump's alleged criticism of her appearance in an interview with Rolling Stone. Trump later claimed his comments had been about her personality. 
"I think women all over this country heard very clearly what Mr. Trump said," Fiorina said.