Jeb Bush's Uninspiring Debate Performance Could Cost Him More Than Points in the Polls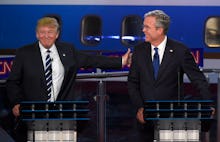 Does Jeb Bush really want to be president? 
No one dared asked the former Florida governor precisely that question Wednesday night during the marathon second Republican primary debate, but his performance seemed to suggest the answer was something like... a polite nod. 
Bush had promised to come out fighting this time around. Sick of being dismissed by his chief tormentor, the front-runner Donald Trump, as a "low energy person," Bush and his campaign pledged to turn up the heat. "When he attacks me personally or disparages my family," Bush told a group of veterans recently at a rally in New Hampshire, "you're damn right I'm going to fight back."
And yet, after three hours spent drifting in and out of the spotlight, Bush emerged mostly as he entered — uninspired. By the end, he was even low-fiving Trump, who grinned like a bully pleased at having brought his target to heel. 
Bush entered the race blessed with the backing of the GOP establishment, much of indebted or loyal to his brother and father, both former presidents, and a massive bankroll headlined by his super PAC, which raised more than $100 million in the six months before he formally announced his candidacy. One long summer later, the early favorite is looking poised to make an early exit from the upper tier — the victim of an inhospitable political climate and prevailing personal nature that makes him appear disinclined or disengaged from the process.  
No apologies: Consider the following exchange. CNN co-moderator Dana Bash kicked it off by asking Bush if he believed Trump had gone "too far" in his comments about Bush's wife, suggesting she might have some kind of undue influence over her husband's immigration policy:
Bush: He did, he did. You're proud of your family, just as I am.
Bush, caught flat-footed, returned to another bloodless yarn about "traditional American values" and the "Reagan approach." His campaign, however, saw the exchange as an opportunity. They quickly cut and posted online a short clip of their man's initial challenge. 
But it cuts out quickly, erasing Bush's quick retreat and uncomfortable pivot. 
In the simplistic calculations of a campaign season, the exchange offered only a confirmation of what so many had suspected: Bush does not seem to have the stomach for this inherently nasty business.
"He kept us safe." Define "safe": Even faced with those nagging concerns and challenges aside, Simi Valley, California — spiritual home of the late Republican hero Ronald Reagan — seemed to be the perfect venue for Bush to steady a listing campaign.
Donors, family members and Republican Party officials comprised the bulk of the in-person audience. Bush's natural base, the black tie set, filled the 400-seat theater — a very different scene from the one that greeted him on Aug. 6 at the Quicken Loans Arena in Cleveland.
This time out, the crowd was naturally more subdued and less inclined to whoop at Trump's preening and insults. But the change of venue did not, as so many expected, elicit much more than a greater volume of transparently canned zingers from the establishment favorite. Bush, it has become clear, does not have a jab — his wind-up is too long and when he's thrown off step, it can take him a while to find his footing again and re-enter the fray.
But even when he did follow through with a blow, it rarely landed with the desired force. In particular, there was his tin-eared defense of brother George W. Bush's administration and its national security record.
"You know," he said to Trump, who had leveled some biting criticism at the former president, "as it relates to my brother, there's one thing I know: He kept us safe."
The room burst into applause and, judging by his clenched jaw, Bush seemed — at last! — to be experiencing some kind of visceral pleasure. But even as the room offered its approval, viewers outside the debate hall were already beginning to question his reasoning. 
One does not have to be a hardline critic of the second Bush administration to see the logical lapse here. To say nothing of what became of the hundreds of thousands of U.S. troops he began shipping to Iraq in 2003, George W. Bush occupied the Oval Office on the day nearly 3,000 people were slain by al-Qaida terrorists. 
The 9/11 attacks were not Bush's fault, no matter how appalling the warnings might seem in the aftermath, but the suggestion that "he kept us safe" is unlikely to win his brother any favor with a voting public already dubious that another Bush would govern much differently from the last.
Donor Dämmerung? Despite all the missteps along the way, Bush's core constituency has remained steadily by his side. Big-money donors continue to fill his campaign coffers and fuel the Bush-aligned super PAC Right to Rise, which according to the Tampa Bay Times is now poised to spend $24 million in an effort to "educate Republican voters" about the candidate.
Mike Murphy, the aide charged with steering Right to Rise, described the outgoing volley as the "first step in a long, process of both telling Jeb Bush's story and talking about his conservative vision for the country." Bush served as the governor of Florida, where a bulk of the ads are slated to air, for the better part of a decade.
Voters, of course, tend to have short memories and the strategists might be understandably concerned that Bush will be conflated with his brother, who left office with a historically low 22% approval rating. Still, the coming deluge of television ads represents a massive outlay — one that suggests the buyers are banking on reinforcements.
Whether they are forthcoming, however, is an increasingly open question. In a turn few on the right expected even a month ago, Wednesday night's unsteady showing had Republican insiders openly asking if "the money" might have eyes for another. And with another Floridian, Sen. Marco Rubio, again playing to rave reviews, it might not have far to travel.