Ahmed Mohamed Has Officially Received Invitations to MIT and Harvard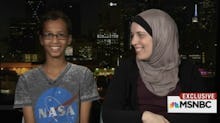 A smiling Ahmed Mohamed appeared Wednesday night on MSNBC's All In With Chris Hayes in what is rapidly becoming a media blitz. Sitting with Dallas-Fort Worth Council on American-Islamic Relations executive director Alia Salem, the 14-year-old discussed how he had been arrested and suspended from school for bringing a homemade clock to class. 
After the interview, Hayes seemingly surprised his guests with an appearance by MIT astrophysicist Chanda Prescod-Weinstein. During the segment, Prescod-Weinstein suggested Mohamed would fit in well around campus. "You are my ideal student," she said. 
Then Prescod-Weinstein made him an offer. 
"If there's any possibility that you can come visit us as MIT, I would love to give you a tour of the center for theoretical physics and the Kavli Institute for Astrophysics," she said adding that her former advisers at Harvard University were equally keen to show the teen around Cambridge, Massachusetts. "You are the kind of student that we want at places like MIT and Harvard."
The offer was the latest in a whirlwind week for the teenage tech savant. Since his case became widely known after an interview in the Dallas Morning News, Mohamed has seen an outpouring of support. The hashtag #IStandWithAhmed was trending online Wednesday, while President Barack Obama and Facebook founder Mark Zuckerberg weighed in with encouragement and offers of their own. 
Meanwhile, a LaunchGood funding initiative aimed at raising money toward a scholarship that would allow Mohamed and others like him to pursue STEM fields has already raised nearly $10,000 and seem on track toward hitting a $100,000 funding goal. 
In between all that, Mohamed also held a triumphant press conference in Irving, Texas, where he announced that charges against him had been dropped and he was looking to transfer schools. "Don't let people change who you are," he told well-wishers."
Hayes closed out the interview with Mohamed by suggesting that, while Mohamed was still young for college, "these things start early these days."
"That's a fact right there," Mohamed said. 
Watch the full clip below: