These Flashy Designers Are Blurring the Gender Divide With Mannequins (Yes, Mannequins)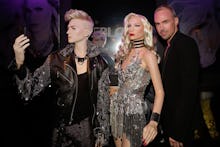 Phillipe and David Blond, the designers known as the Blonds, want to make jewel-encrusted, crystal-laden, gold embroidered corsets and dresses — for everyone. 
Their celebrity clients already include Beyoncé, Nicki Minaj, Britney Spears, Rihanna and Madonna. But they want you to know that their elaborate designs are for everyone: male, female, really anyone.
"We have been promoting this evolution of acceptance," Phillipe Blond told Mic. "What we ultimately want is a time and place where we don't stop and say, 'Oh, that's a man,' or, 'Oh, that's a woman.' We all want acceptance."
And they're doing it with mannequins.
It's not just about the clothes — it's who wears them. Earlier this year, the Blonds announced a groundbreaking new project with mannequin company Rootstein, which has been designing mannequins for nearly 60 years. For the first time in the mannequin company's history, one person would pose for both the female and male forms — and that person would be Phillipe Blond. 
Over the past two years, the designer traveled back and forth to London and stood completely still for more than 12 hours at a time as computers traced his every dimension. The measurements were turned into a cast, which was used to create two mannequins, both influenced by Phillipe's body.
Last week, the mannequins were exhibited at Rootstein's showroom in New York City along with some of the Blonds' most memorable work, including corsets and stagewear worn by both Queen Bey and Katy Perry. 
It didn't matter what form the garments were placed on, or if these feminine garments matched the mannequin's supposed assigned gender. What mattered was the fashion itself.
The project speaks to the Blonds' continuing fight to blur socially constructed gender norms, although Phillipe Blond told Mic that shrugging off gender norms is nothing new. 
"It's always been here. It's always been a thing," he said. "People are just paying more attention to it with things like Drag Race and Caitlyn Jenner."
All the Blonds are really doing, they said, is encouraging the rebellion. "We are just a small part of the movement," David Blond told Mic. "We only want to expand it and at this point, we feel like that's the way it's going."
That movement is evident in the clothing hitting runways and stores, especially for styles less flashy than the Blonds' gear. Designers like Hood by Air's Shayne Oliver have embraced a loose, unisex aesthetic, on display at his New York Fashion Week show on Sunday, where he had men and women walk the runway together in gender-neutral designs.
"Designwise, I don't have any boundaries when it comes to gender," Oliver told W magazine. "Menswear is not glamorous, and womenswear is, so why not mix the two together?"
Young designers like recent Pratt graduate Claire McKinney are predisposed to do the same. For the 22-year-old's debut collection, which combines workwear-inspired pieces and denim, she recently told Mic she was aware of how necessary it is to bridge the gap between male and female with clothing today.
Making progress with mannequins. Tweaking mannequins might seem minor; but as one of the enduring traditions of the retail world, the dress forms that silently model our clothes reflect our norms. Now, manufacturers are finally taking note of the varying genders, sizes and shapes in order to have the most inclusive forms possible.
Major retailers like Topshop in the United Kingdom and Target Australia have made moves to include plus-size mannequins in their stores. In 2014, J.C. Penney showcased a series of mannequins of varying sizes, including one in a wheelchair and another with a prosthetic leg. 
The Blonds' creation of gender-fluid mannequins are another step towards a more diverse fashion landscape. Edgy fashion designs can help, but something as mainstream and ubiquitous as mannequins can make a subtle but powerful difference too — if, of course, they catch on.
In the meantime, the Blonds are also pushing boundaries with their clothing in flashier ways.
At their fashion week show on Wednesday night, Phillipe Blond walked the runway first, donning a gold, glittery dress with huge, flared sleeves as celebrity fans like Bette Midler and Kelly Osbourne looked on.
The designs that followed were Egyptian-inspired, they were cinched, they were embroidered and bejeweled to the nines. And Phillipe proved they could work for any gender at all.