The Dark Side of 'Empire's Terrence Howard You Probably Won't See on TV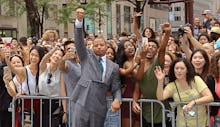 Terrence Howard and his Empire character, Lucious Lyon, have at least two things in common: They both come from humble beginnings, and they both have explosive tempers.
Despite his tough start to life, things have been looking good for Howard of late. He is the star of the Fox breakout hit show, Empire, which attracted almost 17 million viewers during its finale and saw its ratings increase every single episode throughout the season, a rare feat in television these days. 
"Just to give context, this never happens. Like, actually never. It's record-breaking," the Washington Post wrote. (It is the only show to see increased viewers five weeks in a row since the most recent iteration of Nielsen ratings introduced in 1991.)
But then there's that shared violent temper. Behind the facade of Howard's success and glamor exists a much murkier man who's frequently found trouble as a result of his anger issues, which have, on occasion, allegedly manifested themselves in the form of domestic abuse. 
There are at least six alleged instances dating back to 2000 in which Howard physically assaulted someone. Most have been women, and most have been former lovers. 
He discussed his mottled past with domestic violence in a recent Rolling Stone interview, during which he also shared his concern that society is not "made for men to flourish anymore."
It's not me, it's you. When Howard discussed hitting his ex-wife, Michelle Ghent, he had two qualifiers to add, suggesting the incidents were not as bad as reported. 
The first is regarding a time when he says he only slapped Ghent, despite being accused of punching her (though both are wrong, he admits). "She was talking to me real strong, and I lost my mind and slapped her in front of the kids," he tells Rolling Stone. "Her lawyer said it was a closed fist, but even slapping her was wrong."
There are also graphic photographs of when Howard's then-wife, Ghent, returned from their trip to Costa Rica with a black eye in 2013. That, he says, was self-defense and a mistake. "She was trying to Mace me," Howard explained. "And you can't see anything, so all you can do is try to bat somebody away — and I think that something caught her. But I wasn't trying to hit her."
Mic reached out to Howard's former-girlfriend, May Seng Yang, regarding his history of domestic abuse, but Yang wrote in an email, "I'm unable to discuss anything about him at this time."
A troubled past: The Rolling Stone profile exposes a man not too unlike his father. When Howard was two years old, his father, Tyrone, stabbed a man to death with a nail file at a mall after the stranger accused Tyrone of cutting the line for Santa Claus. It was an incident that became known as the "Santa Line Slaying."
In a parallel decades later, in 2005, Howard got into a physical altercation with a couple at a restaurant after he, himself, was accused of cutting in line. It ended with the man on the ground and the woman being hit, too.
The movie star explains society has, over time, morphed into an unwelcoming place for manly men, at the expense of people like him and his father.
"My daddy taught me, 'Never take the vertebrae out of your back or the bass out of your throat. I ain't raisin' sheep. I raised men. Stay a man,'" he said. "But being a man comes with a curse because it's not a society made for men to flourish anymore. Everything is androgynous, you know? The more successful men now are the effeminate." 
Little accountability for domestic abusers: Howard hasn't just made excuses for himself; he's also made excuses for other men accused of domestic violence. In controversial remarks he later retracted, Howard was caught on camera defending Chris Brown after he made international headlines for brutally beating his then-girlfriend Rhianna, which left her bleeding, swollen and bruised.
"It's just life, man. Chris is a great guy, man. He'll be all right. And Rihanna knows he loves her, you know? They'll be alright. 'Cause everybody gotta get out of their way," Howard said. 
This kind of excuse-making appears to operate on a wider level as well. There is a laundry list of high-profile men who have been accused of abusing women and never served jail time for it: Howard, Brown, Bill Cosby, Michael Fassbender, Floyd Mayweather and Sean Connery, among others.
"I don't think there is anything particularly wrong about hitting a woman — although I don't recommend doing it in the same way that you'd hit a man," Connery said in a 1965 Playboy interview. "An openhanded slap is justified, if all other alternatives fail and there has been plenty of warning. If a woman is a bitch, or hysterical, or bloody-minded continually, then I'd do it. I think a man has to be slightly advanced, ahead of the woman." Connery went on to star in three more James Bond films. 
As for vindicating Howard amidst his revived success, Fox executives simply plead ignorance as to his violent past and said, instead, he's been a "leader."
"With Terrance, we didn't really become aware of any of the [domestic violence allegations] until December," Dana Walden, Fox CEO and Chairman, said. 
"We've been working with Terrence now for just about a year. It's been a fantastic experience," Walden said. "He's a leader among that cast. He's been so professional ... Our experience with Terrence has been excellent."