This Woman Kept Getting Dick Pics on Tinder — So She Turned Them Into (Hilarious) Art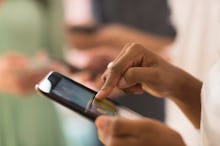 Dick pic fatigue: when your inbox has seen so many low-quality penis shots they all start to look the same.
If you're a man or woman who dates men in 2015, chances are you've experienced dick pic fatigue (or DPF for short) at least once or twice while wading through the abysses of Tinder or Grindr.
But one New York woman decided to combat her DPF head(!)-on by slapping miniature doll clothes on the penises of male model friends and creating a dick pic genre of her own.
Welcome to Soraya Doolbaz's "Dicture Gallery." (NSFW, obviously.)
Penis pics with a purpose: The 35-year-old Iranian-Canadian artist was sick of seeing the laziness and lack of artistry evident in the dick pics she was receiving on dating apps. So when she got a few quality dick pics, she was inspired. 
"Camera angle, lighting, focus [in the photos] were all on point. It got me thinking about staged dick pics," Doolbaz told Mic. "I thought, 'why don't I take the pictures with a professional camera?' Then I started thinking about dicks as characters completely separate from the person behind the dick. An alter ego, if you will."
So she started staging elaborate photo shoots, inviting couples to dress up the male partner's penis in various costumes. There's a cop penis. There's a teddy bear penis. There's even a Donald Trump penis. 
The photos are funny, but more importantly, they take the dick pics Doolbaz was receiving out of context. On her Tumblr, dick pics aren't unwanted, sexually aggressive photos from suitors — instead, they seem harmless and even kinda adorable. "It's very desexualized — especially when the penis is wearing a hat or sunglasses," Doolbaz told the Huffington Post.
Doolbaz isn't the first woman to turn unwanted dick photos into an artistic statement. Writer Madeleine Holden launched the website Critique My Dick Pic (NSFW) in 2013 with the aim of encouraging senders to focus on such aspects as lighting, color and composition. And in 2013, a Brooklyn, New York, feminist artist collective launched an exhibition of unsolicited dick pics as a way to reclaim control and turn the tables on the photos' senders.   
On Thursday, New York City's 317 Gallery will be displaying the photos in the Dicture Gallery along with a benefit cocktail event, with proceeds being donated to the Testicular Cancer Foundation.
"I chose the Testicular Cancer Foundation, testicularcancer.org, as the beneficiary of this event because I've met quite a few people who have either lost a loved one or survived this disease," Doolbaz said in a press release. "Testicular cancer is a young man's cancer affecting men age 15-35. It's completely curable if detected early. I saw the opportunity to use dicks to save balls and I took it."
Doolbaz's story is an inspirational reminder that anyone can make a positive difference in the world — one well-dressed wiener at a time. "This was [the] ultimate goal, to make people laugh," she told Mic. "There's a lot of sadness and anger around the world, but we all deserve a little giggle once in a while."
Check out the full Dicture Gallery here.
h/t Huffington Post