Carly Fiorina's Educational Background, Experience and Views on Immigration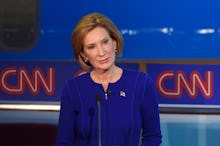 In a such a massive field of Republican presidential candidates, it can be hard for anyone to stand out, let alone get a word in edgewise on the debate stage. Not so for Carly Fiorina, whose ascension in the Republican primaries and standout performance in Wednesday's GOP debate have earned the candidate her stripes among many debate viewers.
Fiorina, 61, was CEO of technology company Hewlett-Packard in California from 1999 to 2005. That year, she was fired following a merger she spearheaded with computer products developer Compaq and amid falling stock prices, Bloomberg reports. 
Fiorina previously worked for mobile telephone giant AT&T, where she started as a sales representative and eventually landed a job as the company's first female officer of its Network Systems division at the age of 35. Five years later, AT&T named Fiorina head of North American sales. 
Education and political experience: Fiorina was born in Austin, Texas. After high school, she graduated from Stanford University in 1976 with a bachelor of arts in medieval history and philosophy.
Fiorina spent one quarter at the University of California, Los Angeles, School of Law, but later earned a master of science in management from Massachusetts Institute of Technology's Sloan School of Management as well as an MBA from the University of Maryland. 
Fiorina's political career is still in its infancy, but it's her reputation as a Washington outsider that has endeared her to voters, CNN reports. This primary season, having little political experience has been something of an asset for Republican candidates, as GOP front-runner Donald Trump and neurosurgeon Ben Carson have proven. 
In 2010, Fiorina made an unsuccessful attempt to beat out incumbent California Sen. Barbara Boxer. In 2013, Fiorina was appointed chairwoman of the American Conservative Union Foundation, a branch of the conservative lobbying group the American Conservative Union.
Views on immigration: One of the most controversial topics of 2015 has been immigration, in light of President Barack Obama's executive action on immigration. In November, the president announced a set of orders granting amnesty to millions of undocumented immigrants and offering more work opportunities for immigrant workers. 
Presidential hopeful and real estate magnate Donald Trump has further spurred the issue with his comments about Mexican immigrants being "rapists" and harbingers of infectious disease. Many of the Republican candidates have failed to offer a concrete immigration plan, but most have expressed a desire to build a wall along the United States-Mexico border. 
Fiorina, like most Republicans, has taken a stance against the president's executive actions on immigration. In a November interview on Meet the Press, Fiorina said the president's order "hurts the American people." 
At the same time, Fiorina said during her Senate bid in California that she would support the DREAM Act, "which would allow certain undocumented youths to earn legal status by attending college or serving in the military," the Los Angeles Times reports. 
In a 2010 interview with Fox News, Fiorina responded to a question regarding Arizona's crackdown on undocumented immigrants, saying, "The federal government isn't doing its job. It's the federal government's job to secure the border. The Obama administration has defunded securing the border."