Colorado Has Made More Money From Taxing Marijuana Sales Than From Alcohol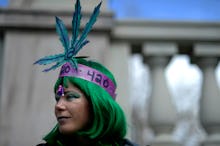 The state of Colorado decided to hold a special holiday Wednesday. There was no break from work or school, but there was a respite from another obligation: taxes on marijuana purchases. The state had a one-day holiday where sales of the drug wouldn't be subject to state levies, and the pause was well-deserved.
Colorado, which legalized recreational marijuana in 2012, raked in nearly $70 million in tax revenue from marijuana transactions in the state between July 1, 2014, and June 30, 2015, according to data from the state's revenue department reported by the Colorado Springs Business Journal. That's almost double the tax revenue generated by alcohol sales during the same period of time, which came out short of $42 million:
This marks the first time that a state has made more money from annual tax revenue from marijuana than alcohol, according to the Marijuana Policy Project.
The numbers: In Colorado, medical marijuana is subject to a 2.9% state sales tax. Recreational marijuana is subject to that tax, but also has a special additional 10% tax attached to it. There's also a 15% excise tax imposed on marijuana producers' wholesale transfers of the drug. That tax scheme might sound onerous, but the state's residents voted it into law in 2013. Given the boom in marijuana sales, it's clear the fees haven't stymied demand for weed.
"Marijuana taxes have been incredibly productive over the past year, so this tax holiday is a much-deserved day off," Mason Tvert, director of communications for the Marijuana Policy Project and a co-director of the campaign in support of the 2012 initiative to regulate and tax marijuana like alcohol in Colorado, said in a statement. "This will be the one day out of the year when the state won't generate significant revenue. Over the other 364 days, it will bring in tens of millions of dollars that will be reinvested in our state."
Wednesday's tax holiday was in fact the result of an accident. State tax analysts miscalculated the expected amount of marijuana revenue in its early years, and a provision of the 2013 law that established the special high tax rates technically mandates they be suspended once a certain level of tax revenue is exceeded. Lawmakers on both sides of the aisle have scrambled to keep the tax rates intact anyway, and plan to fix the technical error by putting a change in the law to a ballot vote in November. In the meantime, the one-day holiday from special taxes has been the compromise offered by lawmakers, as a sizable chunk of tax revenue lies in legal limbo until the law is reformed.
The holiday provided a particularly big boost for marijuana growers, saving many of them tens of thousands of dollars as customers poured into dispensaries to take advantage of lower prices.
Since marijuana sales began in Colorado in January 2014, the total tax revenue has come out to around $120 million so far. Assuming the state's legal troubles are sorted out soon, that pot should continue to grow, and help the state continue to finance critical services such as the construction of schools. 
h/t Time