2015 Republican Debate Results: How to Fact-Check GOP Candidates From CNN Debate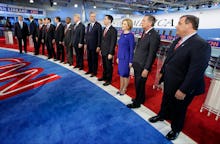 From inflated claims to outright lies, candidates' remarks during the second Republican debate of 2015 didn't always represent the truth. When it comes to fact-checking presidential hopefuls, it can be hard to parcel fact from fiction. Here are some resources for holding candidates accountable for their words. 
Factcheck.org: The nonprofit Factcheck.org, a branch of the University of Pennsylvania's Annenberg Public Policy Center, was started in 2003. The group describes itself as a "'consumer advocate' for voters that aims to reduce the level of deception and confusion in U.S. politics."
During Wednesday's debate, the group kept a running list of candidates' remarks not supported by fact or that stretched the truth. For instance, Florida Sen. Marco Rubio said during the debate he never supported exceptions to abortion bans in the case of rape or incest despite having co-sponsored a bill in 2013 that had such exceptions, Factcheck.org reports.
Politifact.com: The Tampa Bay Times started its own fact-checking website, Politifact.com, in 2007. The website boasts a "Truth-O-Meter" rating for politicians' statements and claims. Statements are rated from "false" and "mostly false" to "true" and "mostly true."
Here's their take on Wednesday's debate. 
The Washington Post's "Fact Checker:" This feature promises to expose the "truth behind the rhetoric."
"Its operator, Glenn Kessler, doles out zero to four Pinocchios to statements based on the degree of a claim's factuality, completeness and intended effect," the Independent Voter Network reports. 
Other major publications: Many major publications do fact-checking of their own. Read more here, here and here. 
On Wednesday, 15 Republican candidates for president took the debate stage at the Ronald Reagan Library in Simi Valley, California. CNN, the night's host, split candidates into two tiers. The candidates with the highest overall poll numbers were invited to the prime-time debate at 8 p.m. Eastern. Based on the network's criteria, 11 candidates made the cut.
The remaining candidates — Louisiana Gov. Bobby Jindal, South Carolina Sen. Lindsey Graham, former New York Gov. George Pataki and former Pennsylvania Sen. Rick Santorum — were slotted for debate two hours earlier. Former Texas Gov. Rick Perry dropped out of the race on Friday and former Virginia Gov. Jim Gilmore didn't meet CNN's minimum requirements to be included in the debates.