Viola Davis Made History at the 2015 Emmys, and Everyone Should Watch Her Speech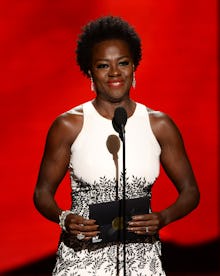 As a relatively sleepy 2015 Emmy Awards with few buzz-worthy speeches drew to a close, one winner changed the game. Yet changing the game is old hat for Viola Davis: She's done it her entire career.
The How to Get Away With Murder star won the award for best actress in a drama Sunday night, making history as the first black actress to win the award. Though Scandal star Kerry Washington was nominated previously and Empire's Taraji P. Henson was nominated for the same category this year, Davis' win was the final crack through that glass ceiling.
It's only appropriate she smashed through it in style.
"In my mind, I see a line. And over that line, I see green fields and lovely flowers and beautiful white women with their arms stretched towards me," she said, paraphrasing a famous Harriet Tubman quote from the 1800s. "But I can't seem to get over that line."
"Let me tell you something: The only thing that separates women of color from anyone else is opportunity," she continued. "You cannot win an Emmy for roles that are simply not there." 
Davis went on to dedicate the award to creatives and writers who are producing those roles, chief among them HTGAWM producer Shonda Rhimes, for redefining what it means "to be beautiful, to be sexy, to be a leading woman, to be black."
In the crowd, Henson cheered her on with a standing ovation long after the rest of the audience sat down.
On Twitter, fellow 2014-15 TV season breakout star Gina Rodriguez of Jane the Virgin echoed Davis' call for more parts for women of color.
Perhaps most emotionally, Davis name-checked many of the incredible women who helped her get over that aforementioned line, including Washington, Halle Berry and Gabrielle Union. 
There may have been other awards to give out during the Emmys, but as a climactic moment, Davis' speech was unparalleled.
Watch the full speech below: