Beyoncé, Naughty Boy "Runnin' (Lose It All)": When New Song Will Be Available for Download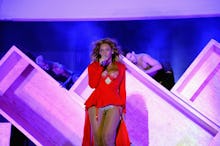 Beyoncé's latest track, a collaboration with British producer DJ Naughty Boy titled "Runnin' (Lose It All)," is expected to drop around 7 p.m. Eastern Thursday, Entertainment Weekly reports. Fans have been on the edge of their seats for the "Drunk in Love" singer's new song ever since Naughty Boy released a 15-second teaser and artwork for the track on Wednesday. 
Naughty Boy, whose real name is Shahid Khan, has worked with a long list of entertainers, from Sam Smith and Ed Sheeran to Britney Spears and Katy Perry, ABC News reports. "Runnin' (Lose It All)" is Naughty Boy's first single off his yet-to-be-titled second studio album.
He took to social media on Wednesday to tease fans: 
Naughty Boy also shared what appeared to be lyrics from "Runnin' (Lose It All)." "If I lose myself, I lose it all/ I've outrun the fears that chased, they're standing still," he tweeted, along with the hashtag #LoseItAll. "Ain't runnin' from myself no more/ Together we'll win it all. I'm ready to face it all."
Beyoncé has been relatively quiet in recent years when it comes to new music. Apart from a modest selection of new tracks, Queen Bey's last big music release was in December 2013, when she unexpectedly dropped her eponymous fifth studio album Beyoncé. 
For an artist with such a huge global footprint and a mysterious persona to match, even a whisper of Beyoncé dropping new music sends her loyal beyhive into a frenzy. Listen to the teaser for the new song here: