We Asked Snapchat Users Why They Stood With Ahmed — Here Are Their Powerful Responses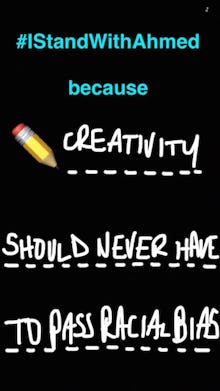 Submitted by drejonesie
On Wednesday, the story of Ahmed Mohamed ricocheted around the Web after news broke that he was arrested for bringing a clock, which a teacher believed to be a bomb, to school. Judging from reports, the incident seemed to have more to do with Ahmed's religion than a simple misunderstanding. 
Ahmed's story brought new attention to the issue of racism and Islamophobia in the United States. On social media, millions of people rallied behind the 14-year-old Muslim student using the hashtag #IStandWithAhmed. President Barack Obama tweeted in support, and Mark Zuckerberg invited Ahmed to the Facebook headquarters. 
Mic asked our Snapchat followers to tell us why they stand with Ahmed. Here's what they had to say. 
1.
2.
3.
4.
5.
6.
7.
8.
9.
Snapchat can be a powerful tool for expression, and Mic is grateful for these submissions.
To follow Mic on Snapchat, add "micdotcom" or scan our code (below).