'Transparent' Is Having Its Moment at the 2015 Emmys — and Deserves It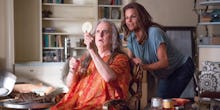 Early signs indicated the 2015 Emmy Awards would once again stick to old favorites — awards for best supporting actress Allison Janney and best actress Julia Louis-Dreyfus in the comedy categories, for instance. Yet voters managed to find room for the new and inclusive. Nothing was more emblematic of that than Transparent's dominance, despite not winning outstanding comedy series, which went to Veep.
The Amazon series walked away with five awards for its first season on Sunday, including best actor in a comedy for star Jeffrey Tambor and best director for creator Jill Soloway. That's an impressive haul for a new series, though Transparent's strong showing at this year's Golden Globes hinted Amazon might have a similarly big night at the Emmys.
Transparent's Emmy haul is so much more important than a statistic or a batch of trophies, though: It's a validation of what is some of the most important work in television today.
The importance of Transparent in 2015 was emphasized by both Soloway and Tambor during their respective speeches. Tambor, for his part, focused on dedicating the award to trans people.
"I'd like to dedicate my performance and this award to the transgender community," Tambor said. "Thank you for your patience. Thank you for your courage. Thank you for your stories. Thank you for your inspiration. Thank you for letting us be part of the change."
Soloway used her speech as not just a moment of celebration but one of reflection on the broader moment for trans people in America. "We don't have a trans tipping point yet," she said. "We have a trans civil rights problem."
She's exactly right. Health care for trans people in the United States is in an abhorrent state. Mainstream media remains clumsy and wrongheaded in its coverage of trans issues. Most horrifyingly, trans people — especially women of color — are dying at an alarming rate. There are efforts to change this but will require real fighting for the future.
That's why Transparent matters. The importance of this show as a tool for both entertainment and education can't be understated. During a moment when we need more trans representation on TV, Transparent is leading the charge. 
"We don't have a trans tipping point yet," Soloway said. "We have a trans civil rights problem."
Yet as Soloway said, this is just the beginning — for both American culture and television. As gracious as Tambor was, he's still a cisgender actor playing a trans woman. With every chip in the wall of ignorance about trans people, hopefully giving these roles to actresses like Laverne Cox, Mya Taylor and phenomenal talents we haven't even met yet can become the norm.
For now, though, Transparent's winning streak is momentous and worth celebrating. We can't wait to see what this team has in store for season two.