Ryan Adams' '1989' Cover Album: Release Date and First Track "Bad Blood"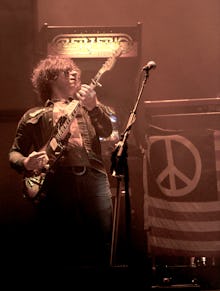 American singer-songwriter Ryan Adams, perhaps best known for his hit 2001 record Gold, is on the cusp of releasing his much anticipated 1989, a digital cover of Taylor Swift's fifth studio album by the same name. Adams, 40, announced Thursday via Instagram that his version of Swift's record-breaking album would drop Monday. 
The announcement prompted a response from Swiftt. The "Blank Space" singer has previously said she considered Adams' covering her album "such an honor." 
Adams announced last month he was recording a cover of Swift's album, released in October. "Ryan Adams is one of the artists who shaped my songwriting," Swift told Entertainment Weekly in August. "My favorite part of his style of creating music is his ability to bleed aching vulnerability into it, and that's what he's done with his cover project of my album 1989." 
The first track off Adams' 1989, "Bad Blood," debuted Thursday on Beats 1 Radio. Stereogum described it as a wounded, searching acoustic" version of Swift's original.  
"Adams was one of the most popular artists to emerge from the '90s alternative-country scene, having led in the North Carolina band Whiskeytown before going solo in 1999," Rolling Stone reports. "Notorious for his hard-drinking and mercurial temper, Adams nonetheless managed to turn out a prodigious catalog of acclaimed music, which ranged from gentle folk to soulful rock to hardcore punk."