The Man Tripped by a Hungarian Camerawoman Was Offered Refuge and a Job in Spain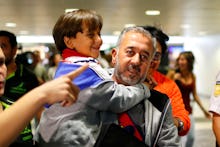 Osama Abdul Mohsen was one of several Syrian refugees caught on camera being kicked and tripped by Hungarian camerawoman Petra László at the Hungarian border village of Röszke as refugees ran from police Sept. 8. But, since then, a Spanish sports organization based in Getafe, a suburb about 8 miles outside Madrid, has offered him a new life with a job and an apartment.
Miguel Angel Galan, the director of Cenafe, a soccer academy that trains coaches, invited Mohsen to teach there after discovering Mohsen coached a first-division soccer team named al-Fotuwa, in Syria. 
Mohamed Labrouzi, an Arabic-speaking graduate of Cenafe, offered the job to Mohsen on behalf of the academy, while Mohsen was staying in Munich. Labrouzi helped with the transition by traveling to Munich to bring Mohsen and his sons back. While Mohsen waited in Germany, he was reunited with another son who he'd been separated from while his family was fleeing from Syria.
"When we saw the story of Mohsen published in the newspapers we felt terrible," Conrado Galán, a Cenafe employee, told El País, according to the Guardian. "We used money from our advertising budget to pay for an apartment for them in Getafe."
Mohsen became known internationally when the footage of him and the camerawoman went viral. 
After unknowingly being filmed kicking and tripping fleeing Syrians — including one little girl — the camerawoman, who works for N1TV, a channel affiliated with far-right Hungarian political party Jobbick, has been dismissed from her job. She also faces criminal charges and potential prison time. 
Mohsen was overcome by emotion when he and his children arrived to a group of welcoming Spaniards, including the mayor of Getafe. 
"I love you all. Thank you for all. Thank you for España," he said, reports NPR. "I see a future for my family in Spain," Mohsen told El Mundo, according to NPR. He hopes and plans to bring his wife and two other children, who are in Turkey, to join them in Spain.