Watch Hillary Clinton be "Interviewed" by Donald Trump on 'Jimmy Fallon'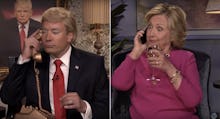 Democratic frontrunner Hillary Clinton took the stage Wednesday for an appearance on The Tonight Show with Jimmy Fallon. Before her interview, however, she took a call from another leading presidential contender, Donald Trump ... sort of.
Reprising what is fast becoming the gold standard in Trump impersonation, Fallon took a moment to call Clinton and offer a few nuggets of Trumpian advice.  
"Congratulations, you're speaking to Donald Trump," said Fallon. "How are you Hillary? I haven't seen you since my last wedding."
Fallon used the exchange as an opportunity to "prepare" Clinton for her upcoming interview with the talk show host later on in the show with a back and forth over their respective positions on the issues. First up was women. 
"Donald, I've spent my entire career fighting for women's rights," said Clinton who then cited equal pay in the work place, protecting reproductive rights and pushing for affordable child care as positions she cared about. "What is your stance on women's issues?" Clinton asked.
"I know a lot of women, and they all have issues," said Fallon.
Aside from being funny, the segment also allowed Clinton to work in more than a little of her standard stump. In between Fallon's mockery, Clinton laid out the ideas and principles she stood for and why she felt victory would be hers. "I'm traveling across our great nation. I'm listening to people's stories. I'm confident Americans will see I can deliver for them, that they can count on me for them and their families," she said.
"You sound like a robot," said Fallon — true to form — dismissing even a modest hint of a policy idea. "You wanna win, here's what you gotta do. First, yell. I yell all the time. In fact, this phone isn't even plugged in. I'm just yelling." 
The pair went on to discuss immigration, which allowed Clinton to draw a sharp contrast with Trump. "America was built by people who came here. They worked their hearts out for a better life and that's what many immigrants are doing today. Their dream is to become American citizens," said Clinton to applause from the audience. 
For Fallon, booking the former secretary of state was a coup and came on the heels his interview last week with Republican frontrunner — the actual Trump. In a memorable exchange the two media savvy personalities engaged in a "self-interview" staged as Trump speaking to Trump in front of a mirror. 
But whether the real Trump and Clinton will ever meet on the debate stage, only time will tell.