Lana Del Rey's 'Honeymoon' Is the Most Lana Del Rey Thing She's Ever Done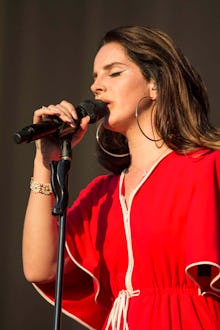 The first words out of Lana Del Rey's mouth on her new album Honeymoon speak volumes.
"We both know that it's not fashionable to love me," she croons to her rapt listener. "But you don't go because truly there's nobody for you but me."
They work like a hypnotic suggestion and set the tone for the entire album. Lana Del Rey, real name Elizabeth Grant, seems very aware the 13 songs that follow will provoke all the same reactions she's gotten from music's trendiest critics the past five years. She knows her songs are still all "sumptuous orchestration, twangs of Twin Peaks-theme guitar and bum-bum-tish drums," as the Guardian described her second album, Born To Die. Her new music won't satisfy any of those who have criticized her in the past for glorifying "regressive" or anti-feminist gender roles.
It's not fashionable to love Lana Del Rey, but "fuck fashion," she seems to say on Honeymoon. Her songs are melodramatic, self-indulgent and darkly sensual in all the same ways as all her past music. Now, however, they come with new defiance. This is Del Rey's sound. No one does it better, and she's going to make sure no one will.
She told us it would be this way. Del Rey tipped off the entire world to the fact that Honeymoon would sound similar to her past works in an interview back in January. The way she described it, she's growing into something that feels like a true artistic identity.
"It's very different from the last one and similar to the first two, Born to Die and Paradise," Del Rey told Billboard of Honeymoon. "I finished my last one [Ultraviolence] in March and released it in June, and I had a follow-up idea. It's growing into something I really like. I'm kind of enjoying sinking into this more noirish feel for this one."
Del Rey has been describing her music as "noir" (specifically "surf noir") since before Lizzie Grant became Lana Del Rey. What her January comments seem to speak to, then, is the new confidence the album exhibits in curating a sound that feels uniquely her own. 
Her songs still languish in the deeply cinematic, polished nostalgia she's been curating since her beginnings, though she's seems more comfortable blending trip-hop into her hooks. She nodded to this in a July Instagram post, describing some of Honeymoon as channeling a "muddy trap energy and some inspired by late-night Miles Davis drives." 
Her sexuality is equally recognizable. One of the biggest criticisms of Del Rey's output in recent years is her celebration of seemingly anti-feminist themes. 
"Her appeal depends on her willingness to disregard feminism completely. She plays a character who smells like French perfume and lusts after 'dope and diamonds' ... She sits around listlessly, waiting for her man to call," Lily Oberman wrote for Mic on the heels of Del Rey's previous album Ultraviolence. "She romanticizes everything modern women have fought not to be."
Critics who cringed at the implications of lines like "He hit me, and it felt like a kiss," a nod to the Crystals' song of the same name, will have a lot more to take issue with on Honeymoon. "You're my religion; you're how I'm living," she sings on "Religion." "When all my friends say I should take some space / Well, I can't envision that for a minute / When I'm down on my knees, you're how I pray." 
Almost every song has it's own example of this submissive, dependent love Del Rey been relying on since the beginning of her career. However, it also includes one of her most empowering and self-assured tracks she's ever penned: "High by the Beach."
"I'll do it on my own / Don't need your money, money / To get me what I want," she sings. It flips a line from "Put Me in a Movie" off her debut album Lana Del Ray aka Lizzy Grant that claims the exact opposite, "Lights, camera, acción / You know I can't make it on my own."
It's a rare moment of power in an album filled with desperate appeals to a more hysterical form of love. It only adds more depth to the album as being portrait of an artist who can feel and sing about whatever the fuck she wants.
Del Rey has said repeatedly in interviews she's never fully understood or cared about the feminist debate surrounding her music.
"For me, the issue of feminism is just not an interesting concept," she told the Fader in 2014. "I'm more interested in, you know, SpaceX and Tesla, what's going to happen with our intergalactic possibilities. Whenever people bring up feminism, I'm like, 'God.' I'm just not really that interested." 
However, in that same interview, she offered her own interpretation of feminism. "My idea of a true feminist is a woman who feels free enough to do whatever she wants," she said. This brand of feminism is proudly on display on Honeymoon. 
No critic or pundit can tell her what her music should or shouldn't be. Del Rey will continue to hone and refine her elegant, tragically self-destructive Old Hollywood sounds and stories as she pleases, the world be damned.