Couple Announces Pregnancy With Horror Movie Trailer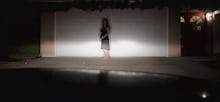 In the wacky world of the internet, people keep finding new ways to surprise their partners with marriage proposals, vacation getaways and even pregnancy announcements. 
But Judy and Gavin decided to take the element of surprise even further, with a pregnancy announcement for friends and family that includes a haunting twist. To share with the world their exciting news, the couple produced a trailer for a horror movie that reveals what's "growing inside" of Judy: baby Holt.
Strange things begin to take place in the couple's new home, foreshadowing Judy's bun in the oven. 
The trailer is also filled with a number of clever puns, giving the "horror film" a comical aspect as well. In one scene, Judy and Gavin are both seen trying to figure out what strange slime is dripping down their bathroom mirror, when they suddenly determine the cause: Prego pasta sauce.
The trailer ends with the official announcement, "Baby Holt: Coming March 2016." Judy and Gavin, a photography duo based in California, photograph couples for their weddings and write on their website they're foodies, travelers and partners in crime. Now, they have two more to add to that list: Horror film stars and future parents.
Check out the full "trailer" below: