Marc Jacobs Just Proved It Is Possible to Make a Stunning Plus-Size Red Carpet Gown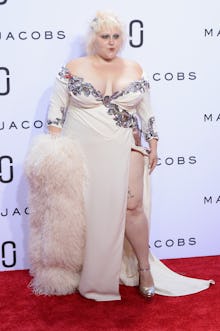 Beth Ditto, an indie rock star and member of the band Gossip, might be most recognizable to her fans when she looks something like this: 
But on Thursday, when she strutted down the catwalk as part of designer Marc Jacobs's NYFW show, she looked like this:
Jacobs welcomed Ditto as a model with no qualifiers. As a plus-size woman, she didn't open or close the show (which she did for designer Jean Paul Gaultier in 2010). She walked in with her fellow models, including Kendall Jenner, Bella Hadid and Emily Ratajkowski. She was just another woman strutting her stuff down the runway. 
Moreover, she was styled in a gown that fit in perfectly with Jacobs' John Waters-inspired collection. 
And that matters. It matters Jacobs didn't present Ditto with a lot of fuss. But it also deeply matters Ditto was wearing a gown as exquisite as all the others — a dress fit for any red carpet. 
Actresses like Rebel Wilson and Melissa McCarthy have spoken out about how difficult it is to get a designer to create a gown just for them. As McCarthy told Redbook in 2014, "Two Oscars ago, I couldn't find anybody to do a dress for me. I asked five or six designers — very high-level ones who make lots of dresses for people — and they all said no."
Certain high-end designers have shown willingness to dress stars beyond a size 2, including Tadashi Shoji, who's dressed Chandra Wilson, Christina Hendricks and most often Octavia Spencer; and Carmen Marc Valvo, who has been worn by Queen Latifah, Helen Mirren and Orange Is the New Black's Danielle Brooks. Most recently, Wilson went with Eloquii, a plus-size brand originally launched by The Limited, for her red carpet stint at the MTV Video Music Awards.
However, the vast majority of designers seemingly haven't bothered to tap into that market, whether purposefully or not. Some designers may think it's too difficult to design for bodies that aren't rail-thin (as many a Project Runway contestant has griped about in the past). But Jacobs, for one, proved that — surprise, surprise — it is possible to design plus-size gowns.
And not only is it possible, it can be beautiful. Plus-size women the world over want the level of luxury fashion available to women who can squeeze into those sample sizes, so why not give it to them? 
Now that Ditto has walked the runway at Jacobs, we hope that more designers take note. 
h/t MTV News