Donald Trump's Answer on Muslims Might Just Be the Thing That Sinks His 2016 Campaign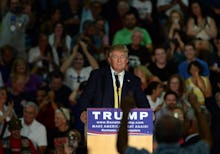 In the end, it could be what Donald Trump did not say that finally brings his slowing campaign surge to a grinding halt.
At an event in New Hampshire on Thursday night, a Trump supporter asked the Republican primary front-runner a question that began with a slur against Muslims, then described President Barack Obama as one himself (Obama is a Christian) before concluding with a bizarre allusion to homegrown terrorism.
"We have a problem in this country. It's called Muslims," the man said. "We know our current president is one. You know he's not even an American."
"We have training camps growing where they want to kill us. When can we get rid of them?"
Trump, who seemed confused by the rambling inquest, responded blandly.
"A lot of people are saying that and a lot of people are saying that bad things are happening out there," he replied. "We're going to be looking at that and plenty of other things."
Trump passed up three opportunities to correct his questioner, failing to challenge suggestions that Muslim Americans are "a problem in this country"; that Obama is among them and "not even an American"; and that extremist "training camps" are "growing" inside U.S. borders — none of them in accord with reality.
Coming off a poor debate performance on Wednesday in which he was widely seen as lacking a firm grasp of policy matters, Trump's comments on Thursday could be the catalyst that finally causes his supporters to rethink their enthusiasm. 
The response: Trump's response — or lack thereof — quickly made him the target for a number of Democrats, including presidential candidate Hillary Clinton, who sent an admonishing tweet on Thursday night:
Florida Rep. Debbie Wasserman-Schultz, the Democratic National Committee chairwoman, issued a statement saying "GOP frontrunner Donald Trump's racism knows no bounds." 
"The vile rhetoric coming from the GOP candidates is appalling," she wrote in an email to reporters.
After the event, Trump campaign manager Corey Lewandowski called the Washington Post to defend his boss, arguing that the billionaire was only responding to the question about "training camps" and that he had not, as was initially reported, saying he he was looking for ways to remove all Muslims from the U.S.
"The media wants to make this issue about Obama," Lewandowski continued, now unapologetically. "The bigger issue is that Obama is waging a war against Christians in this country. They need support and their religious liberty is at stake."
Unimpressed, New Jersey Gov. Chris Christie, another Republican candidate, piled on during a Friday morning television appearance. 
"I'll just tell you what I would do, and I wouldn't have permitted that," he said on NBC's Today. "If someone brought that up at a town hall meeting of mine, I would've said, 'No, listen. Before we answer, let's clear some things up for the rest of the audience.' And I think you have an obligation as a leader to do that."
This again? The incident in New Hampshire is the latest in a long line of attacks on Obama's faith and, more to the point, represents an underlying conviction that describing Obama as "a Muslim" is tantamount to a slur.
In 2008, during their general election competition, Sen. John McCain at least had the good sense to correct a Minnesota woman who infamously said she couldn't "trust" Obama because, according to what she had read, "he's an Arab."
Met with a similar challenge, though in even closer quarters, McCain managed to reject the premise of the question.
"No ma'am," he responded, shaking his head. "He's a decent family man, citizen, that I just happen to have disagreements with on fundamental issues."
But this is not the first time a Republican presidential candidate failed to correct course after a supporter went off the rails. During the 2012 race, a woman at a campaign event for former Pennsylvania Sen. Rick Santorum described Obama as an "avowed Muslim."
When asked then by ABC News why he chose not interrupt, Santorum argued that doing so was not his "responsibility."
"There are lots of people who get up and say stuff in a town hall meeting and say things that I don't agree with, but I don't think it's my obligation, nor should it be your feeling that it's my obligation to correct somebody who says something that I don't agree with," he said.
Santorum, who is running in this season's Republican primary, has so far failed to make the primetime stage for either of the party's two debates. He's polling at just below 1% nationally and only a point higher in Iowa, a state he won in 2012.