Lana Del Rey 'Honeymoon' Album: Reviews and How to Stream New Music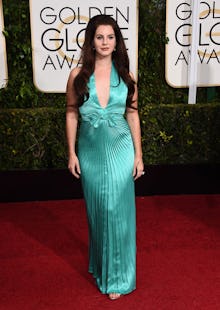 Lana Del Rey unveiled her third album, Honeymoon, on Friday, and it's everything the 30-year-old singer's fans want from their cool, vintage queen — persistent melancholy and a mood that says she has zero fucks to give. 
Honeymoon, cowritten with award-winning songwriter Rick Nowels, who produced Del Rey's second studio album Born to Die, is an even deeper exploration of the singer's tormented love life than anything that's come before it. Toxic relationships are the fodder from which Honeymoon was created. 
As Brittany Spanos of Rolling Stone puts it, "Get ready to enter a world of truly tortured romance, complete with enough bitterness, lust and violence for a one-woman revival of Who's Afraid of Virginia Woolf?" The album's eponymous single, "Honeymoon," is a love poem to a guy with a violent past. 
There's also something hauntingly solitary about Del Rey on the album. She croons about failed loves, missed opportunities and lonely nights, but the singer also seems so distant from them. "She's just bored, and her boredom is entrancing," Jon Caramanica of the New York Times writes. 
The music is beautiful and meanders through its verses and chords like slow storytelling. 
Notable tracks include "Terrence Loves You" and "Music to Watch Boys To." Del Rey closes the album with a cover of Nina Simone's "Don't Let Me Be Misunderstood." Del Rey's version is a slow, melodic remake of the original "that reads as a not-so-veiled shot at her critics," Spanos writes. 
Sometimes the unhappiness that envelops the album, many of whose tracks are accompanied by slow, steady drums and a sighing guitar, can feel a bit lazy. "As pop music, it can fall a bit flat," Neil McCormick of the Telegraph writes. "Too many Honeymoon songs unwind on a relentlessly downbeat trajectory, in the same tempo and the same key, drifting by in a mood of anesthetized ennui. Here, sadness is a pose rather than an emotion. Honeymoon is an ambient album for broken-hearted hipsters: torch muzak."
To stream Honeymoon for free, go to music streaming service Spotify. The album is also available on iTunes.