Science Could Be Bringing STD Tests to a Cellphone Near You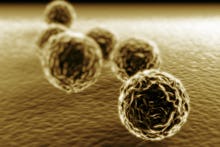 As uncomfortable and threatening as having a sexually transmitted infection may be, thanks to a new device out of Johns Hopkins University, you might soon be able to test yourself in the comfort of your home.
Researchers in the department of biomedical engineering are working on a new device, tentatively called "mobiLab," that will test for chlamydia and send the results directly to a smartphone within 30 minutes. To perform the test, users take a disposal genital swab sample and run it through the mobiLab, which analyzes the results before sending the findings to your smartphone, the Baltimore Sun reported. The test currently only works with vaginal swabs, though there are plans to have it eventually work for men as well.
"Our goal is to make it more widespread and used at home," Jeff Wang, the project's lead researcher, told Mic. "We have gonorrhea tests and HIV in the pipeline." Wang said that technology for testing other STIs was functionally the same but that the team chose to focus on chlamydia because they were able to receive samples from the school's I Want The Kit initiative.
The device itself is roughly the size of a coffee mug and costs about $200 to make, the Sun reported. "Chlamydia is a strange bug because it infrequently produces symptoms, so people don't go in to get tested for it," Patrick Chaulk, assistant commissioner of the city Health Department's Bureau of HIV/STD Services, told the paper. "People have the opportunity to spread it to others without knowing it, and that's why a device like this would be quite helpful."
A mass-market chlamydia test is not the first move toward at-home self-diagnosis. In 2012, the United States Food and Drug Administration approved OraQuick, an at-home HIV test which uses a mouth swab. The test takes about 20 minutes and is widely available. 
"With an estimated 20 million new STIs acquired in the U.S. each year it is important to develop new and rapid ways to test for these infections so that effective treatment can be administered without delay," Dr. John Papp, a microbiologist in Centers for Disease Control and Prevention's division of STD prevention told Mic. "CDC supports safe, effective innovation for diagnosing STDs."
Doctors queried by Mic were supportive of the device, but also expressed some initial skepticism  "People don't just have penile/vaginal sex" to transmit the disease, Dr. Punyadech Photangtham, a New York-based physician, told Mic. "[You] need to be able to test urine, throat swab and rectal swab." 
Present urine tests, while easy and accurate, do not give results with the same speed or accuracy as swab tests. But swabs, too, present their own complications. A swab — potentially requiring some degree of insertion into the vagina or urethra — is an invasive proposition, which, when self-administered, can increase the risk of incorrect test results. 
Another New York doctor, who told Mic he spent time treating Wall Street traders for diseases they wanted to keep away from their families, and wished to remain anonymous, cited other potential complications.
While the machine can perform the test at home, it still requires a doctor's visit to get a prescription, and if symptoms are present, a negative diagnosis would also not negate the walk of shame to your local clinic. "If it's negative and they still have the symptoms, they should still see a doctor," because they may have received a false negative or are experiencing another issue, he said. 
Still, with chlamydia often asymptomatic and cases topping more than 1.4 million in 2013, mobiLab is probably a name you'll read again soon.