Fetty Wap Inspires a Young Fan to Face the World Without His Prosthetic Eye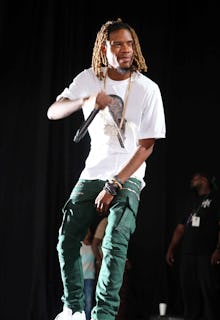 There's a lot to admire about William Maxwell aka Fetty Wap, and his meteoric rise to fame. He's overcome hardships to find his spot in the limelight. His melodic trap anthems have broken Beatles-caliber records. Outside of music, Maxwell has also been made a powerful impact on the lives of his fans. 
Brenda Vaden, the mother of a young Colorado boy, shared a long Facebook post Sept. 10 describing the powerful impact Maxwell has had on her son's life. Vaden describes how, similar to Maxwell, her son Jayden lost an eye at an early age. Like Maxwell, Jayden wore a prosthetic replacement throughout his young life — that is until he heard Maxwell's music. Seeing the rapper face the world without his prosthetic helped Jayden gain the confidence to do the same. Jayden's mother and Maxwell himself could not be more proud.
"After weeks of asking, Jayden is venturing the world without his prosthetic," Vaden wrote in a post also copied to Instagram. "I of course am a wreck because this world can be cruel, but so proud of our Boogies."
She directed a portion of the post to Maxwell, thanking him for doing something she could not. "This young rapper unknowingly gave Jayden something we weren't able to give him — the confidence to be different — and I am grateful to him," she wrote. "Thanks to Fetty Wap for saying 'F the world this is me,' and for helping make our baby boy just a little more remarkable than he already is."
Nothing exhibits Maxwell's brazen "this is me" mentality, more than his upcoming album cover. His damaged eye is front and center, a dare to anyone who use his disability as an opportunity to make him feel less than.
Maxwell, to immense credit, responded to Vaden's Instagram, seconding her celebration of her son's strength.
"All I wanna do is show people that it's not how you look or what you see it's how you see it and what your looking for from yourself," the artist responded on Instagram. "I appreciate his confidence I appreciate you taking the time out for me and thank you for being a fan of me as a person and thank lil man for being a fan of Fetty Wap."
Having visible role models can be transformational for children with disabilities. Say what you will about "Trap Queen," the way Fetty Wap inspiring his fans to have confidence in themselves and their abilities is an impact worth celebrating.
h/t Gawker