Jessica Biel Wants Women to Talk About Their Periods in New Video Series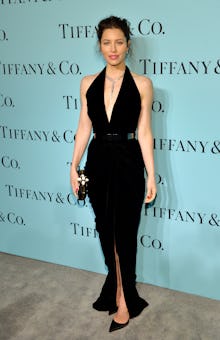 Women rarely talk openly about their first period stories. Jessica Biel wants to change that — and to start, she's sharing hers, which happened when she was in fifth grade.
"I was in a school play, wearing a gray beard and this pad the size of a skateboard and thinking, 'What is happening to me?'" she recently told Glamour. That's why she's co-launching a sex-ed webseries with Saundra Pelletier, the founder of the women's health care nonprofit WomanCare Global, to reduce stigma and encourage women to talk openly about their bodies.
The webseries will focus on such topics as menstrual health care, contraception and pregnancy, all normally taboo issues. "We want girls to know what their [body is going through] so they don't feel scared or ashamed or gross," Biel told Glamour.
Breaking stigma: Biel was first inspired to launch the project after meeting with Pelletier and discussing her difficulties conceiving her son, Silas, with husband Justin Timberlake. "I realized I really didn't know what's going on inside my own body," Biel told Glamour. "It was shocking." The two decided to pair up to launch an online series aimed at revitalizing the conversation surrounding sex education.
Although the promo for the series is a little dry, considering the richness of the source material — it's about periods, guys! Who doesn't love talking about periods? — it couldn't come at a better moment: Thanks in large part to activists like Kiran Gandhi, a drummer and runner who recently ran the London Marathon while visibly menstruating, women are becoming increasingly open to discussing menstrual health issues.  
But the cultural shame and silence surrounding topics like menstruation has devastating consequences for women in other parts of the world. In some regions of East Africa, for instance, feminine hygiene products like pads and tampons are expensive and not widely available, forcing some young women to use rags, mud or even bark instead. Due to high costs and subpar school facilities, an estimated 1 in 10 girls will miss school because of their periods, eventually prompting them to drop out.
To combat this and help provide adequate resources for women throughout the globe, Pelletier has launched Project Dignity, which provides free, reusable sanitary pads for schoolgirls in South Africa. Now, she and Biel are trying to refocus their energies on clarifying myths and misconceptions about women's health within the United States.
"This campaign has everything to do with women's bodies," Pelletier says in a promotional video. "There is no topic that is off-limits."
h/t Glamour