Demi Lovato "Confident": Lyrics, Streaming and Download Options for New Single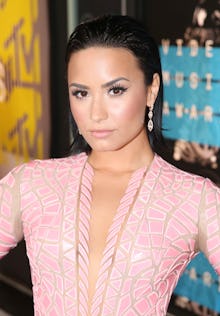 In case you weren't already aware, Demi Lovato is confident. In fact, the 23-year-old "Cool For The Summer" singer is so self-assured, her end-of-the-summer jam is titled just that.
Lovato's new song, "Confident," was released Friday morning with a worldwide premiere on Beats 1 Radio. The upbeat single, available for streaming via Spotify and Apple Music, features a simple drum beat and some powerfully edgy lyrics.
Lovato reclaims her confidence and lets her freak flag fly while posing a simple question to her audiences: What's wrong with being confident?
"It's time for me to take it, I'm the boss right now/ Not gonna fake it, not when you go down/ Cause this is my game, and you better come to play," Lovato sings as trumpets sound off and the beat begins to pick up.
"I used to hold my freak back, now I'm letting go/ I make my own choice, bitch I run this show/ So leave the lights on, no, you can't make me behave/ So you say I'm complicated, that I must be outta my mind/ But you've had me underrated, rated, rated.."
The chorus kicks in, and Lovato repeats the question, "What's wrong with being confident?" as a fast-beat takes over. The song then gets raunchier as Lovato sings, "It's time to get the chains out, is your tongue tied up?/ Cause this is my ground, and I'm dangerous and you can get out/ But it's all about me tonight." 
The new single comes from Lovato's latest album, which shares the same name. Confident should debut Oct. 16 via iTunes. Another single, "Cool For The Summer," was a major success and became the fastest No.1 dance club song in two years, according to Billboard.