A Scammer Cloned Spotify to Rake In a Fortune on the App Store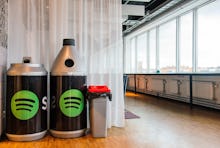 For the past month, Spotify's logo was sitting at the top of the paid rankings for the Apple App Store. Only this wasn't the popular music-streaming service — it was a clone passing itself off as Spotify Premium.
The app takes its name from a successful, seemingly legitimate lyric-searching app called SFind for Spotify Premium, but the rest of it is daylight robbery of Spotify's App Store presence. They've copied the text description of the app, the screenshots, even the Spotify icon. The developer website tag even takes you right to the Spotify website.
The reviews section is littered with testimonials called "DO NOT BUY" and "SCAM" that claim the app is buggy, doesn't work and crashes users' phones.
The developer, "Nicolas Casellas," has a history of counterfeiting. If you look at the copyright for the bogus app, it has the name Zwisel Lavergne, which was used to create the app VHS Camcorder — Pro. Again, this was a ripoff of a popular cam app called VHS Camcorder by a company called Rarevision.
"I could fight with these guys all day for trying to get their apps removed, but more will come into the App Store," Thomas Worth, Rarevision's lead developer, told Mic. "It's not like Apple is going to monitor every single app to look like mine. So how do I spend the time trying to scare these guys off?"
It's unclear how the apps ever made it through Apple's strict, scheduled approval process in the first place. Worth suspects it could be that the submission to the store looks different and that changes are made when the app is approved. Another possibility might lie in the fact that the app was given a 17+ maturity designation, which could have a looser approvals process.
Rarevision submitted a legal claim through Apple's developer relations, and Lavergne (or Casellas, or whatever the bogus developer's name actually is) never answered the emails from Apple. The app was eventually pulled down. 
Find a popular app of any kind, and you're bound to run into dozens of people who cloned the app, push it out or free and run ads against it.
But he can't win them all. Worth has given up on trying to ask Apple to take down every clone of his app. It would embroil him in an endless game of whack-a-mole that, as an independent developer, he doesn't have the time or the resources to engage in.
Clone apps are everywhere. Find a popular photo editor, music app, image sharing service, game, checklist, scanner, ad blocker, Web browser or sound board, and you're bound to run into dozens of people who cloned the app, push it out or free and run some ads against it.
Then, these apps that crib off of the work of talented developers end up spreading faster than the original product. On Thursday, for example, Justin Bieber took this Instagram video with a clone of the VHS Camcorder app.
But Worth isn't too upset about this instance — it still drove him a ton of sales, and he believes that people will see that his app is better, more original and actually worth paying for.
"It's not even about the money, I'd just rather they have a better experience. The clones certainly aren't as good as my app, and they don't have the same features," Worth told Mic. "But either way, I don't know if there's that much I can do about it."