Next Time a Man Accuses a Woman of Deceiving Him With Makeup, He Should See These Cartoons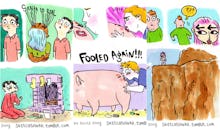 If you swiped on mascara this morning, you probably didn't realize that you were engaging in a high-stakes game of aesthetic espionage that literally puts men's lives at risk.
If that sounds comical, it's supposed to be. That's why comics illustrator Megan Dong has been working on a new project: a series of comics about men "being deceived by makeup,"  which pushes the accusation that women are intentionally trying to fool men into thinking they're attractive to its hilariously illogical conclusion.
The sentiment that women's makeup is somehow intended to trick men isn't uncommon. Just check Twitter, or side-by-side photos like these. That was the sentiment stirred up in 2013, when a viral set of "before and after" makeup photos prompted men on Reddit to lash out. 
"I think it is deceitful: Men go for looks, and for most, looks are an important aspect of your potential partner," one said, with another chiming in, "This post shows to not trust one's looks." 
Dong told Mic, "I have personally met [and] known a lot of young men who have very negative opinions about makeup and the women who wear it. When I was in high school and college, plenty of my male classmates and friends expressed a preference for women who were 'totally natural' or 'didn't need makeup,' and made jokes about not wanting to wake up next to a 'different person' in the morning."
This kind of thinking puts women in a bind. Even when women are accused of "deceiving" men by wearing makeup, going totally makeup-free isn't quite acceptable either. It's a double standard so smartly skewered by Amy Schumer in her "Girl, You Don't Need Makeup" sketch, in which men urged her to embrace her natural beauty, only to quickly insist she apply makeup after seeing what that "natural beauty" looks like.
The sketch exposed the harsh reality of the beauty standards women are held to. Even if men insist they'd rather see women go au naturel, we still feel pressured to wear makeup to hide dark circles and zits, contour cheekbones, brighten up tired eyes and have skin that glows.
"I don't think [men] realize that their expectations of women are unrealistic and unfair, and that the idea that women only wear makeup for the benefit of men is presumptuous," Dong said. "I think that most men who prefer the 'natural' look don't realize that most women wear makeup to achieve it." 
Makeup requires no explanation: Then there are also plenty of women (and men) who wear makeup because they love trying different colors and products, perfecting techniques and experimenting with different looks for pure fun. The goal isn't to deny one's "natural look" or hide from the world or deceive onlookers. 
All of those reasons and more are valid explanations for wearing makeup — and none are deserving of shaming. That's the message sent by #PowerofMakeup, a recent hashtag campaign started by beauty vlogger Nikkie to encourage women and girls to embrace their love of makeup and not feel guilty about it.
"I just want people to know that makeup is fun, and there are no rules to makeup... Makeup is there for days when you want to look hella good," says Nikkie in her Power of Makeup video.
And if people are deceived into thinking your eyes are just a bit rounder, your lips a bit fuller or your cheeks a bit rosier than usual? Well, so be it.
This post has been updated with comment from the artist.
h/t PopSugar