Bernie Sanders on GOP Debate: "I Could Feel the Energy Leaving My Body"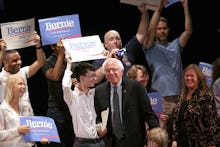 New York — Sen. Bernie Sanders did his best to live-tweet Wednesday night's Republican presidential debate, but as he told an audience of supporters here on Friday, he simply couldn't bring himself to complete the task. After nearly three hours, he said, "I could feel the energy leaving my body."
There was no shortage of electricity at the Vermont independent's fundraiser and rally on Friday at the Town Hall Theatre in midtown Manhattan, where a packed auditorium frequently chimed in to tell Sanders how much they loved him. On this occasion, the hometown candidate — he was born and grew up in Brooklyn — returned the favor. "I love you, too," he said with a grin.
The face of the Sanders campaign might be the same, but the tone of its heartiest events has changed over the course of this shockingly successful summer. To start, he began his typically fierce address with a light moment, introducing his wife, son and a small army of young grandchildren:
Where he has mostly done all the speaking at past events, Friday's rally began with passionate remarks from union member and Black Lives Matter activist Jerome Thompson. Thompson was fired from his job at Cablevision in 2014, he says, for likening the company's business practices to slavery. On Friday, he said the regional cable provider is "like a plantation." The actor Mark Ruffalo followed to introduce Sanders, echoing the candidate's familiar refrain by calling for "a political revolution" before going a step further and suggesting the possibility of needing "a much uglier revolution."
Sanders was more circumspect in his own remarks, even scaling back his normal diet of economic rhetoric in favor of more pointed criticism of the Republican primary candidates, the Wall Street Journal and conservative attacks on President Barack Obama. As part of ramped up efforts to make up ground with black voters, who remain overwhelmingly loyal to Hillary Clinton, Sanders tied his jobs program proposal to the disproportionately high levels of unemployment among young people of color.
Moshie O'Connor, 39, learned that Sanders was running by watching The Daily Show, and has become a true believer over the course of the summer, she told Mic as she waited in line to enter the theater. O'Connor was one of the few black voters in the crowd on Friday, but she said her sister, a Sanders organizer in Connecticut, was beginning to "go through the churches" in an effort to connect with and swing the African-American community away from Clinton.
Inside, Sanders also took time to defend Obama. What, he asked, hadn't the Republican Party blamed on the president? 
"A mosquito flying around," he said to laughter. "It's Obama! Too cold, too hot, it's raining — it's Obama!"
Turning more serious, he singled out Donald Trump's vague plans to revamp social security and ripped the candidates for avoiding the more prickly issues during their gathering earlier this week.
"I can't understand how, in a three hour debate, there was virtually no discussion of the grotesque level of income and wealth inequality in America today," he said, comparing his experience viewing the debate as being subject to a transmission from a "parallel universe."
Sanders also took aim at the Wall Street Journal, which published an article on Monday suggesting Sanders' proposals would cost in excess of $18 trillion. The new taxes and increased levies, the piece argued, would not offset those new expenses.
But rather than challenge the piece on its merits, Sanders seemed to bask — along with this deeply partisan crowd — in the source of the criticism.
"I've been criticized by the Wall Street Journal. Surprise, surprise," he said, with apparent glee. "Rupert Murdoch and his friends don't like my ideas!"
This was a New York Times crowd, and they whooped at the suggestion. But soon enough, Sanders, as ever, returned to the fire and brimstone that's fed his remarkable rise in this increasingly tight Democratic presidential primary.
"In 2008, the working families in this country bailed out the crooks on Wall Street," he said, "now we're going to ask them to pay a tax on Wall Street speculation."
At this, Sanders fell silent and let the thunderous standing ovation run its course.