Abortion Rights Groups Fight Back After Republican Vote to Defund Planned Parenthood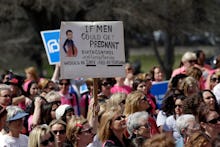 Republicans in the House of Representatives voted Friday afternoon to cut more than $500 million in aid to Planned Parenthood from the pending federal budget. 
With Democrats in the Senate vowing to block the bill and President Barack Obama having promised a quick veto if they fail, the legislation is all but doomed. As a result, anti-abortion legislators are threatening to withhold support from any future spending bill that would renew funding to the organization — a maneuver that could lead to a second government shutdown in two years. 
Circling the wagons: Whether those hardliners have the steel to block even a compromise resolution remains to be seen, but the political fight has already kicked off a fundraising blitz from the perennially besieged women's health provider. Planned Parenthood, along with Emily's List, a political action committee supporting abortion rights, and the National Abortion and Reproductive Rights Action League all responded to the vote with calls to action directed at their vast donor base. 
"The lawmakers who forced this vote are dead set on a single mission: damage Planned Parenthood and deny people care," PPFA president Cecile Richards said in a fundraising email Friday afternoon. "Their latest cynical ploy is to eliminate federal funding for Planned Parenthood health centers for one year, so that they can launch more investigations based on false accusations and flat-out lies."
The groups have also pushed a hashtag — #StandWithPP — in an effort to unite supporters. On Friday afternoon, Emily's List retweeted this message from Democratic presidential candidate Hillary Clinton.
The GOP plan: The "Defund Planned Parenthood Act" would place a one-year moratorium on public funding for the organization, ostensibly allowing Congress to "investigate" a series of videos distributed by the anti-abortion Center for Medical Progress. Those clips, filmed in secret and deceptively edited, purport to show Planned Parenthood employees and associates seeking to illegally sell fetal tissue to researchers. 
The House vote was timed to seize on renewed grassroots political interest created by Republican presidential candidate Carly Fiorina's claim, in the GOP primary debate Wednesday, that one of the videos shows "a fully formed fetus on the table, its heart beating, its legs kicking, while someone says we have to keep it alive to harvest its brain."
Fiorina's description was quickly outed as a fiction — none of the clips show anything like what she described, but conservative groups, along with her rising campaign, have also sought to galvanize support and solicit donations from the anti-abortion community. 
Pressed to provide the scene she referenced in the debate, Fiorina has deflected. 
"Planned Parenthood wants to keep spending taxpayer dollars and hide the truth about their business," Fiorina's campaign said in a statement provided to NBC News on Thursday. "Unfortunately for them, Americans can go watch these videos for themselves and are horrified."
Time is running out. Despite repeatedly name-checking Democratic leaders like President Obama and Hillary Clinton, Fiorina's challenge will fall most heavily on the shoulders of Republicans in Congress trying to carve out a compromise bill to keep the government funded at least through the middle of December. More conservative members of their caucus, including third-ranking House Republican Rep. Steve Scalise of Louisiana, are already using Fiorina's script to amp up pressure on moderates to join their doomed cause.
The Senate will vote on an unrelated abortion bill on Tuesday of next week. Majority Leader Mitch McConnell (R-Ky.), who opposes any strategy that would lead to another government shutdown, has not yet set a date for debate on the House bill. Funding for the federal government runs out at the end of the month.