Where Kendall Jenner, Cara Delevingne Rank on 'Forbes' Highest-Paid Models List 2015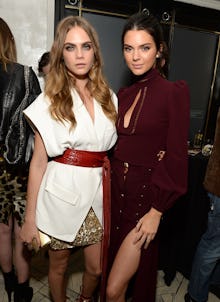 The fashion world's top models aren't just beautiful, they're also filthy rich, according to Forbes' Highest-Paid Models 2015, released Thursday. The annual ranking of the fashion industry's most lucrative faces included veteran models Miranda Kerr and Kate Moss but also some industry rookies. 
Reality TV star-cum-model Kendall Jenner made the list for the first time, and 23-year-old English model, actress and Instagram sensation Cara Delevingne returned for her second year in a row. 
At 19, Jenner was the youngest model on Forbes' list. She came in at No. 16, making a cool $4 million from her contracts with Estée Lauder and Calvin Klein, among other designers, InStyle reports. 
Jenner's modeling career began a few years ago, but it wasn't long before she became fashion's newest it girl. By 18, she was walking in the most elite fashion shows and was one of the most photographed women in the industry, GQ reports. 
Delevingne appeared on the list last year and has since jumped to the No. 2 spot, making $9 million. However, Delevingne's placement this year might also be her last. The model said last month she was stepping off the runway, possibly forever. 
"Modeling just made me feel a bit hollow after a while," Delevingne told the Times magazine. "It didn't make me grow at all as a human being. And I kind of forgot how young I was ... I felt so old."
Forbes' list covers models' earnings from June 2014 to June 2015. "Our list tracks pretax earnings for women who make the majority of their income modeling, rather than acting, presenting or singing," Forbes writes. "We looked at income from cosmetics and fragrance contracts, advertising, endorsements and other ventures."
The modeling world's reigning queen is Gisele Bündchen, who made a whopping $44 million from her modeling career this year, $35 million more than Delevingne or her second-place tie-holder, Adriana Lima. "With career earnings totaling over $430 million, the Brazilian bombshell has made more than any other model since 2002 and shows no signs of slowing down," Forbes notes.