Rihanna Just Revealed Why She Won't Go Onstage With Taylor Swift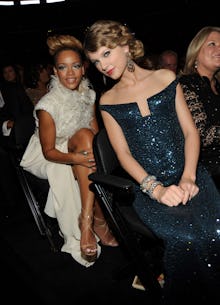 Rihanna won't be joining Taylor Swift's girl squad anytime soon.
The singer-songwriter says she doesn't think heeding Swift's beck and call would make sense for either artist's brand or audience.
"I don't think I would," Rihanna told NME, according to Cosmopolitan U.K. "I just don't think it makes sense."
"I don't think our brands are the same," she continued. "I don't think they match, I don't think our audiences are the same."
"In my mind she's a role model, I'm not."
For context, during a single week of her ongoing 1989 tour in Los Angeles, Swift brought on Kobe Bryant, Ryan Tedder, Uzo Aduba, Chris Rock, Matt LeBlanc, Sean O'Pry, Mary J. Blige, Natalie Maines, Alanis Morissette, Ellen Degeneres, John Legend, Beck, Annie Clark, Selena Gomez, Lisa Kudrow and Justin Timberlake.
She's invited enough celebrity besties to share the stage with her that comedians have started parodying her, while others wonder whether she's merely bringing other celebrities as window dressing for her musical empire.
While Rihanna's opt-out was extraordinarily polite, it's hard not to reach the conclusion she doesn't really want to play second-place on Swift's stage. She's right — it probably wouldn't make sense.
h/t Cosmopolitan UK