J.K. Rowling Just Took Down a Twitter Troll — and Made an Excellent Point in the Process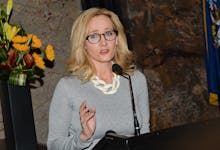 Harry Potter series creator J.K. Rowling has done it again, turning the tables on another troll foolhardy enough to take a swing at the queen of Twitter.
After Rowling posted a photo of former Scottish Labour leader Jim Murphy on Thursday with the caption "Give us a smile," a user named Iain Taylor accused her of seeking publicity for her "new book/play/film." (Rowling's movie Fantastic Beasts and Where to Find Them comes out November 2016.)
Here's how the conversation went:
Rowling quoted the troll's tweet, mocking him for suggesting she was desperate for publicity.
Another Twitter user asked Rowling why she thought the comment deserved a response.
Rowling responded with a Maya Angelou quote.
Perfect.
It's far from the first time Rowling has demolished a Twitter troll with the power of her 5.52 million followers. Rowling has humiliated misogynists, homophobes, angry right-wingers, body-shamers and even Westboro Baptist Church members with ease from the comfort of her screen, earning accolades from her fans and possibly making her the most-publicized person on Twitter.