5 Illegal Drugs You'd Be Arrested for Using — While Doctors Are Prescribing Them as Cures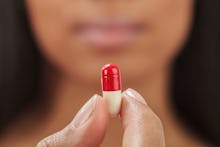 For decades, the U.S. government has fought the war on drugs with squads of police, drug raids and jail time. The prison population swelled, and many drugs were made difficult or impossible to study as a result. 
But a new era is dawning in which psychedelic substances are finally being seriously investigated for their potential uses helping drug addicts, treating people with post-traumatic stress disorder and alleviating mysterious illnesses like cluster headaches. While federal agencies like the Drug Enforcement Administration and the Food and Drug Administration still place onerous restrictions on such research, groundbreaking studies could prove the medical benefit of psychedelic medicine is large and untapped.
Here are five drugs the federal government will send you to prison for possessing or using, but researchers believe could hold the key to groundbreaking treatments in psychiatry and drug addiction treatment.
1. Ibogaine for heroin and oxycodone addiction
This powerful hallucinogenic is probably best known for gonzo journalist Hunter S. Thompson's prank accusation that 1972 Democratic presidential nominee Edmund Muskie was addicted to the drug and "looked out at the crowd and saw gila monsters instead of people."
But researchers are increasingly interested in the substance for its possible use fighting opiate addiction.
Researcher Thomas K. Brown, who works with the Multi-Disciplinary Association for Psychedelic Studies, told Mic via email single-use ibogaine treatment may be an effective replacement for traditional opioid dependence treatment, which relies heavily on replacement substances like methadone or suboxone that act on the same receptors in the brain. That type of treatment often continues for years and comes with its own severe withdrawal symptoms.
By comparison, "most people treated with ibogaine for their opioid dependence are treated a single time, typically over the course of a few days," Brown told Mic. "Many patients (and many of their family members) tell me that ibogaine is the only thing that has allowed addicts to stop using opioids."
According to Brown, there are various drawbacks to ibogaine therapy — most notably that one out of every 300 people who take it die for reasons that are not entirely clear, though "heart problems appear to be a particular risk factor." On the other hand, Brown clarified opioid use itself was "quite risky" and many patients "are quite willing to face a statistically small risk that the ibogaine treatment will kill them."
Brown says the "illegal status of ibogaine has greatly hindered research, mainly because it's been virtually impossible to secure the funding necessary for clinical trials," even though illegal methadone kills thousands a year in the U.S.
2. Marijuana for PTSD
Some researchers believe marijuana could aid people with post-traumatic stress disorder, calming the overactive fear response behind their elevated levels of anxiety.
Researcher Dr. Sue Sisley, who also works with MAPS, is researching whether marijuana could offer relief to patients with treatment-resistant PTSD. According to Sisley, previous research has found a "75% reduction in PTSD symptoms using 80 veterans in the New Mexico medical marijuana program."
All of the patients Sisley is working with "have failed psychotherapy or medication or both." The benefit of marijuana is that it may function as a monotherapy, immediately reducing symptoms of PTSD on its own without expensive and lengthy other treatments. The researchers are additionally studying whether weed has secondary "benefits on depression, insomnia, reduction in suicidal thinking."
"All our patients are looking for immediate relief," Sisley told Mic via email. "That's what we hypothesize marijuana can give them, some immediate reduction in symptoms." At the same time, Sisley says federal restrictions on marijuana greatly hinder the course of the important research.
"Not only is it hard to study a Schedule I drug, the U.S. government has made it much more difficult to study marijuana than any other Schedule I drug," she said, noting only one federally controlled supply of marijuana exists. "Our study was submitted to the FDA in 2010, and now here we are, still unable to implement our study five years later."
"We owe it to the veterans to put it through the rigors of a controlled trial ... This is a study that should have been expedited, with the number of veterans that have committed suicide," she added. "Instead, they've impeded this at every turn."
3. Ayahuasca for addiction
Ayahuasca is an extremely potent hallucinogenic drug known for triggering intense, psychologically transformative psychedelic experiences. According to L.A. Weekly, it's commonly used by people seeking "spiritual enlightenment" and is already administered in some Mexican and South American clinics to treat addiction.
MAPS-affiliated University of Victoria's Center for Addictions Research of British Columbia researcher Gerald Thomas told Mic while high-quality research into ayahuasca's potential anti-addiction effect is lacking, "recent findings that track what are normally thought of as difficult-to-change 'personality' traits (e.g., anxiousness) seem to suggest meaningful and lasting changes can be obtained from one or a few sessions with these substances."
In a study Thomas conducted involving 12 participants who took the drug in conjunction with counseling, "several of them said that the aya treatments were, without question, superior."
"I can't believe what I saw and who I talked to, like my mom and my dad and my granddaughter who are in the next world there [i.e., have passed away]," one participant told Thomas' team. "And it really, really touched me deeply, and I think about that every day."
Thomas told Mic while the ayahuasca therapy can be very emotionally intense, it and other psychedelics "seem to have the ability to facilitate deep, sustained emotional healing, and this means they could potentially help heal any mental, physical or behavioral condition that has emotional roots."
4. MDMA for PTSD
MDMA, also known by the names Ecstasy and Molly, is a form of amphetamine that causes a strong empathogenic reaction. While on MDMA, users often feel a deep emotional connection to others and, as psychiatrists are demonstrating, may be able to come to terms with traumatic events in their past when the drug is administered in combination with psychotherapy.
Virgil Huston, a veteran of the wars in Iraq and Afghanistan, told Mic that when he took the drug three times during a three-month MAPS trial alongside traditional psychotherapy, "It was wonderful and enlightening on a number of levels."
"One thing the MDMA facilitates is thinking about traumatic experiences in a neutral, safe manner. I could objectively think about them and talk about them," Huston said. "Then, it seems those memories are put back in their place in the brain in a different configuration; a configuration that does not cause as many problems, such as bad dreams, intrusive thoughts all the time or having horrible insomnia, because you can't get the shit out of your mind. This has continued to this day, a year and a half after the last MDMA session."
Study of MDMA's potential therapeutic uses has been repeatedly delayed by the federal government, which considers the drug a Schedule I substance. The Drug Enforcement Agency has only recently lifted restrictions on its study in relation to PTSD research and for treating death anxiety in individuals with life-threatening conditions.
Research is also planned to determine whether MDMA could be administered to adults on the autism spectrum to treat symptoms of social anxiety.
5. LSD for death anxiety and cluster headaches
New research is suggesting LSD can help people suffering from debilitating, life-threatening conditions accept their mortality and face the end with less unease.
Time reports a 2014 Swedish study published in The Journal of Nervous and Mental Disease gave 12 patients, mainly those with terminal cancer, varying doses of LSD. The researchers found on average their anxiety decreased "by 20% on standard measures for those who got a full dose, and that this lower anxiety level appeared to remain even after therapy."
Peter, an Austrian social worker who participated in the study, told the New York Times, "I had what you would call a mystical experience, I guess, lasting for some time, and the major part was pure distress at all these memories I had successfully forgotten for decades. These painful feelings, regrets, this fear of death ... a memory of neglect." But while the experience was disorienting and at times frightful, he was actually coming to terms with long-repressed feelings about his inevitable death.
LSD may also hold the key to alleviating cluster headaches, a rare and poorly understood condition which causes headaches so painful sufferers describe them as the worst possible pain in the world. A 2011 study discovered significantly improved symptoms among six volunteers treated with a nonhallucinogenic analog of LSD, with some remaining in improved condition more than a year following the treatment.
Correction: Sept. 21, 2015