Andy Samberg's 2015 Emmy Awards Opening Is a Star-Studded, Musical Binge-Watching Tribute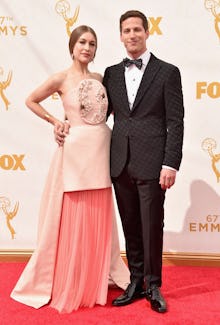 Andy Samberg was chosen to host the 2015 Emmy Awards because he knows how to put on a show. That doesn't mean he watches every single show on television, though. 
The Brooklyn Nine-Nine star and comedian opened the show, airing Sunday on Fox, with a musical tribute to binge-watching the dozens of shows nominated this year.
In the tribute's opening scene, Samberg was surrounded by actor friends at dinner. The host then admitted he hasn't watched many of the shows. The group was discussing the upcoming awards show — and how the host would need to prepare himself by watching each and every show beforehand.
So he did.
The comedian then sang about how he spent the next era of his life watching each and every TV show, nominated or otherwise. With his life dedicated to binge-watching TV, Samberg was left looking somewhat unkempt, making his fellow celebrities uncomfortable.
Samberg then used the rest of his opening monologue to touch on important social issues with humor and criticism. He called out Rowan County, Kentucky, clerk Kim Davis for having four husbands, the lack of diversity in Hollywood and even Bill Cosby's alleged sexual assaults.
Check out Samberg's complete opening below: