Andy Samberg Just Perfectly Skewered Hollywood's Biggest Problems With Diversity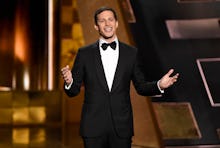 After a short but fun musical homage to binge-watching every TV show in the universe, Andy Samberg dashed any fears about casting a white, male host and opened the 2015 Primetime Emmy Awards with a monologue checking major issues still plaguing Hollywood. His pointed barbs addressed the lack of women and people of color in front of the camera as well as larger social problems like xenophobia and homophobia.
Samberg quickly pointed out that this year's crop of nominees may be the most diverse in Emmy history. He then followed up with a prompt: "Racism's over! Don't fact check that." 
While there are a diverse crop of nominees this year, including nominations for actresses Viola Davis and Taraji P. Henson, and comedian Keegan Michael-Key, Hollywood still has a long way to go to move into the 21st century, including a lack of people of color in key studio executive roles. 
However, this year's Emmy snubs paint a different portrait for diversity in Hollywood. Gina Rodriguez was snubbed for her role in Jane the Virgin, a show that features many prominent Latino characters. Rodriguez won this year's Golden Globe for outstanding actress in a comedy series. 
In a simultaneous nod to ageism and sexism in the entertainment industry, Samberg called out the wage gap and age gap in Hollywood. At the Oscars in February, best supporting actress winner Patricia Arquette addressed the need to close the gender wage gap in her rousing acceptance speech. 
Of course, women in Hollywood have to deal with more than just smaller paychecks compared to their male counterparts. They also have to deal with perceived irrelevance as they grow older. 
Recently, Maggie Gyllenhaal, 37, was told she was too old to play the love interest to a 55-year-old character. Amy Schumer also called out this phenomenon in a recent Inside Amy Schumer sketch, "Last Fuckable Day." 
At the time, Gyllenhaal said the feedback "made me feel bad, and then it made me feel angry, and then it made me laugh."
Turning his eye to the 2016 presidential race, Samberg called out former reality TV host and Republican presidential front-runner Donald Trump for his recent racist and xenophobic comments towards Latinos, specifically Mexican-Americans. 
"Donald Trump is running for president, to the delight of uncles everywhere," he said. "But I've gotta say sure Donald Trump Seems racist... What else?"
Finally, Samberg addressed Rowan County, Kentucky Clerk Kim Davis, whose decision to stop issuing marriage licenses to same-sex couples due to her religious beliefs landed her in jail on contempt charges. 
"Paula Deen is on this season of Dancing With the Stars," Samberg said. 
He added, "If I wanted to see an intolerant lady dance, I would have gone to one of Kim Davis' four weddings.
On the song that played when Davis emerged from her jail cell, Samberg said, "It was kind of ironic that Kim Davis came out of jail to 'Eye of the Tiger,' when you consider how many dudes have boned to that song."
Watch Samberg's monologue below (at the 4:30 mark):