Jill Soloway Used Her 'Transparent' Emmy Win to Take a Major Stand for Trans Rights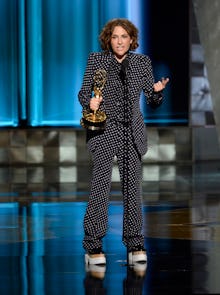 Jill Soloway, creator of much-acclaimed Amazon show Transparent, could have devoted her acceptance speech for winning outstanding directing for a comedy series to her own accomplishments. Many others likely would and certainly have. Instead, however, after thanking her cast, crew, family and others, Soloway made a crucial point about transgender rights. 
Soloway thanked her mapa, her parent who came out as a transgender woman later in life, for sharing her story and supporting Soloway. Soloway also noted that her mapa is still denied basic rights like being legally denied housing in 32 states.
"We don't have a trans tipping point yet," she said. "We have a trans civil rights problem."
She then directed viewers to visit the organization Trans Equality's website to learn more — and, as one Twitter user reported, caused the website to crash.
It's hardly the first time Soloway has used her platform to raise awareness about the inequality trans individuals still face. She used her Golden Globes acceptance speech to honor the memory of Leelah Alcorn, a 17-year-old trans girl who died by suicide in December.
"I want to thank the trans community," Soloway said in January. "They are our family. They make this possible. This award is dedicated to the memory of Leelah Alcorn, and too many trans people who die too young."
Hopefully, other winners will follow in Soloway's footsteps and use their platforms to elevate the voices of marginalized communities. As Soloway concluded, "People's lives depend on it."