The Emmys Just Missed Its Last Chance to Honor Amy Poehler for 'Parks and Recreation'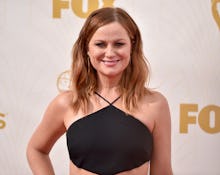 The citizens of Pawnee are not happy tonight. 
During Sunday's 2015 Emmy Awards, Amy Poehler lost her final chance to win the award for outstanding actress in a comedy series. She was nominated for playing Leslie Knope on Parks and Recreation six times during the show's run. She lost this time around to Veep's Julia Louis-Dreyfus.
During the show's run, Poehler was honored with a Golden Globe award for best actress in a comedy series, while the show itself won a Peabody award for excellence in television. Neither won an Emmy, however.
The importance of women in comedy has always been at the forefront of Poehler's public persona. In a Fast Company profile, for instance, she spoke out against double standards for women in TV. 
"I have these meetings with really powerful men and they ask me all the time, 'Where are your kids? Are your kids here?'" she said. "It's such a weird question. Never in a million years do I ask guys where their kids are. It would be comparable to me going to a guy, 'Do you feel like you see your kids enough?'"
Perhaps it was that, then, that prompted Poehler to bring female-focused levity to the Emmys telecast in the past. Most of these took form in a series of running gags that she would orchestrate with fellow nominees. In 2011, her Emmy gag found all the outstanding actress in a comedy series nominees storm the stage. Together, they showed the power of women in comedy.  The actresses received a standing ovation. 
The gags continued this year. While all the other nominees wore their awards-show best, Poehler mugged for the camera in aviators and a hoodie. 
Yet, as much as she supported her fellow nominees and the winners, Poehler never got to the Emmy stage. 
Some took to Twitter to vent their frustrations with Poehler's 6-0 Emmy scorecard. 
We love you, Amy, and we know justice will be served one day. Until then: