Green Ribbons at the 2015 Emmys Draw Attention to Climate Change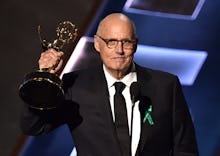 The most notable accessory on the red carpet at the 2015 Emmys on Sunday night wasn't a diamond necklace or stack of shiny bracelets. Instead, several stars sported green ribbons to call attention to climate change. 
As tweeted by the National Resources Defense Council, the green ribbons worn by celebrities like Transparent star Jeffrey Tambor were part of the #DemandClimateAction campaign, which calls on world leaders to directly address climate change, including "a new universal legal agreement" between countries committing to a "low-carbon future."
The United Nations Conference on Climate Change is set to take place in December, and world leaders and organizations have already begun discussing plans and proposals to address the problem (even the pope has entered the climate change conversation). U.S. President Barack Obama and China's President Xi Jinping, for example, are both pushing for the universal agreement cited by the National Resources Defense Council. 
Now celebs are making their stand known through green ribbons, including Jeffrey Tambor and George R. R. Martin, among others.
As the New York Post noted, green ribbons are also sometimes worn as part of the Green Ribbon Campaign, which encourages open discussions about mental health — a cause celebrities have supported at past awards shows with ribbons.
h/t Cosmopolitan