This Is What Happens When Ava DuVernay Directs an Apple Music Commercial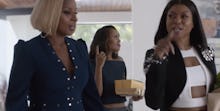 Don't use the Emmys commercial breaks for a trip to the bathroom. 
Perhaps one of the best moments happened between the action during the 2015 Primetime Emmy Awards. A new Apple Music commercial featured Kerry Washington and Taraji P. Henson joining Mary J. Blige at her house for a chill get-together. Once Blige whipped out a box of old-school mixtapes, though, things got a tad more modern.  
Selma''s Ava Duvernay directed the TV spot: After the first airing, Duvernay tweeted that we can expect two more commercials with these stars in the coming week. 
The commercial spun the Internet into a mini-frenzy. 
This year has been big for shows about people of color. Even if the shows themselves weren't given a nod, their actors were. The success of TV shows like Jane The Virgin, Empire, Fresh Off The Boat and all of Shondaland isn't just a fluke: A recent study from the University of California, Los Angeles found that TV shows with ethnically diverse casts and writers' rooms can look forward to higher viewership.
While television is feeling the bump from a host of diverse shows, the film industry remains sorely lacking in representation for women and people of color — both in front or behind the camera. Nonetheless, UCLA's report shows Hollywood's top executives remain largely white and male.
Perhaps that's why DuVernay, a Sundance award-winning director and black woman, has a much harder job finding work in Hollywood. A study commissioned by the Sundance Institute and Women in Film Los Angeles found that, though men and women are equally represented in film school and win awards at Sundance, women are often left behind by the film industry after that, Los Angeles Weekly reported.
"After competing at Sundance and other big festivals, the men who win awards are often tapped to direct for the Big Six: Disney, Universal, Warner Bros., Paramount, Sony and 20th Century Fox," LA Weekly reported. "But Big Six studio executives seem to ignore the award-winning female filmmakers, rarely inviting them to direct a picture."
A historic night. The commercial dropped during the same night How to Get Away With Murder's Viola Davis became the first black woman to take home an Emmy for lead actress in a drama series, Regina King and Taraji P. Henson embraced each other before King made her acceptance speech for American Crime, and Uzo Aduba of Orange Is the New Black became the second person in Emmy history to win for the same role in two different Emmy categories. 
No one was loving the action more than DuVernay. 
In a summer dominated by the rise and fall of the almost all-white female squad, DuVernay's trio gave us something to look forward to this fall: a celebration of black sisterhood.