These Emmy Acceptance Speeches Will Make You Want to Go Home and Call Your Sister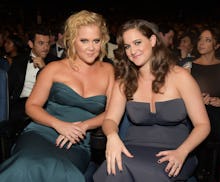 Some Emmy winners thank their agents. Many thank their parents. 
But on Sunday night at the 2015 Emmys, two women tugged on our heartstrings by calling out the women who help them the most: their sisters.
When Orange is the New Black's Uzo Aduba heard her name called out for outstanding supporting actress, her first move was to embrace her sister. 
Even when she rattled off her acceptance speech onstage, Aduba took a tearful moment to thank her.
"Finally, I really just want to say thank you to my family, who has stood beside me my entire life," Aduba said. "My sister Chi-Chi, you are my very best friend and I am humbled to call myself your sister. I love you so much."
Aduba's sisterly thanks was the second major shout-out of the night. Earlier, when Inside Amy Schumer won for outstanding variety sketch series, Amy Schumer walked onstage with sister Kim and addressed her directly during her speech:
Needless to say, these women hit on a universal feeling we don't always hear from the awards show stage — but strikes a major chord: 
Schumer has put sisterly relationships at the center of her work: Her summer hit Trainwreck was as much a modern picture of sisterhood as it was a romantic comedy, Mic's Kate Hakala reported, illustrating how the leading lady's romantic journey took place in the complicated context of family. 
Schumer's real-life sister, Kim Caramele, works alongside her on press junkets, stand-up comedy tours and is a writer and co-producer on many Schumer projects, including Inside Amy Schumer. 
As for Aduba, the Orange is the New Black actress' sister comes up in nearly every interview she does.
That sisterly love isn't just heartwarming; it's essential. As we get older, romantic relationships tend to take center stage but it's in our twenties and beyond we start to appreciate our siblings most. Our bonds with them help make us happier; science even shows sibling relationships contribute to our mental health, which might apply even more so for sisters, some research suggests.
That's something Aduba and Schumer have no doubt discovered — and they used the Emmys as an opportunity to remind us all. 
Now go hug your sister. She deserves it.