Native American Boy Jakobe Sanden Pulled From Class, Told to Cut Traditional Hairstyle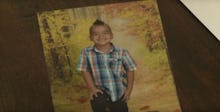 With a toothy grin, Jakobe Sanden looks like any other 7-year-old American boy. But when he returned to school this year, his welcome was anything but ordinary.
Sanden, who is Native American, was pulled out of class last week at Arrowhead Elementary School in Santa Clara, Utah, over concerns his traditional mohawk haircut would be a distraction to other students.
"He's had a mohawk off-and-on his whole life," his mother Teyawwna Sanden told Fox13. "I didn't think it was a big deal."
School administrators, however, said the haircut violated dress code. Arrowhead's official handbook makes no mention of hairstyle, citing only that "hair color should be within the spectrum of color that hair grows naturally." But the district code states, "Students have the responsibility to avoid grooming that causes a distraction or disruption, interrupting school decorum and adversely affecting the educational process," and notes, "Extremes in body piercings, hair styles and hair colors may be considered a distraction or disruption," the Washington Post reported. 
Sanden's mother said Arrowhead principal Susan Harrah insisted she immediately pick up her son and get his hair cut. "We had the students that weren't used to it," Harrah told Fox13. "They had called that out. So the teacher brought the student to my attention." According to the station, Sanden's mother considered withdrawing him from school. On Sept. 14, she took to Facebook to vent her frustrations.  
The younger Sanden was allowed to keep his hair and return to class, but only after the family secured documentation from tribal elders demonstrating the mohawk's cultural significance.
"From past centuries to the modern era, Native [American] boys have worn their hair in various lengths and styles to demonstrate their pride in their heritage," Seneca Nation Tribal Councilor William Canella wrote to the school district superintendent, the Washington Post reported. "It is common for Seneca boys to wear a Mohawk, because after years of discrimination and oppression, they are proud to share who they are. It's disappointing that your school does not view diversity in a positive manner, and it is our hope that Jakobe does not suffer from any discrimination by the school administration or faculty as a result of his haircut."
"I'm sure they didn't intend it to be, but it felt like a form of discrimination," Teyawnna Sanden told Fox13.
Sanden's story comes amid a season of overreaction by school districts as kids return to class following the summer holiday. In a now-famous case last week, 14-year-old Texas student Ahmed Mohamed was pulled out of class and handcuffed by local police after bringing a homemade clock to show his teachers. The device was mistaken for a bomb. Charges were dropped during a 24-hour media uproar, which saw the teenager win invites to the White House, Facebook, Harvard, MIT, his own hashtag and a scholarship fund that has now raised more than $15,000. 
In the past, many dress code transgressions have been committed by women, like this one who exposed her collarbone. Earlier this year, an English high school banned skirts, because "they are distracting to male teachers and other pupils," the Independent reported. The Arrowhead incident, however, shows that dress code overreaction is not exclusively an issue with women.
"It's ironic." Sanden's father Gary told the Post, "the school is named Arrowhead."