#PigGate Goes Viral Over Story UK Prime Minister David Cameron Violated a Dead Pig's Head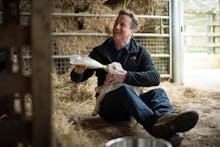 Of all the scandals British Prime Minister David Cameron has had to survive, this is by far the most outlandish. Cameron has been accused of sticking his "private part" in a dead pig's mouth during a university hazing, according to a tell-all, unauthorized biography, Call Me Dave, written by ex-BFF Lord Michael Ashcroft and serialized and published through the Daily Mail. Many people are calling it #PigGate, others #Hameron, while some could not resist #BaeOfPigs.
An anonymous, current Member of Parliament is quoted in Call Me Dave as saying Cameron "inserted a private part of his anatomy" into a dead pig's head during his initiation ceremony for the Piers Gaveston Society, an elite student club at Oxford University, reports the Independent. 
There is allegedly photographic evidence of Cameron's depravity, yet attempts to procure the picture have been unsuccessful. The owner did, however, provide the dimensions of the photograph to assuage anyone's incredulity. 
Ashcroft reportedly turned against Cameron after the politician failed to offer his friend a top government position, despite the generous donations Ashcroft had made to the PM's Conservative Party. 
The porcine puns are seemingly endless on Twitter, with no shortage of jokes about the alleged scandal.
Guardian contributor and self-described "conservative" Louise Mensch went into overdrive with her own series of quips and puns.
And in a strange twist of life imitating art, British satirical television show Black Mirror also began trending after the country was reminded of its first episode, "The National Anthem," in which the fictional Prime Minister has sex with a pig. The show's creator, Charlie Brooker, tweeted an excerpt of the episode's script and jokes the show might have been a documentary. 
Call Me Dave also claims Cameron was part of a cannabis-smoking society, a debauched drinking club and allowed cocaine into his London home. While many suspect this book is the vengeful act of a snubbed former friend, Ashcroft insists otherwise. According to No. 10 Downing Street, the PM's place of residence, Cameron will not "dignify" these claims by responding to them.