"Plastic Bag" Lyrics: Drake and Future's Next Hit on 'What a Time to Be Alive' Mixtape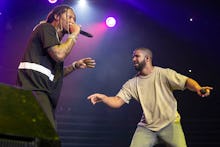 Katie Darby/AP
Drake and Future premiered their joint mixtape What A Time To Be Alive on Drizzy's Beats 1 radio program, OVO Sound. The 11-track collaboration is available exclusively on iTunes, and even though the entire project took just six days to make, the mixtape is jam-packed with your party's next bangers.
While the compilation features several powerful raps like "Digital Dash," "Jumpman" and "Scholarships," one will surely make its way to the club circuit before all others. "Plastic Bag" focuses on a heavy bass and catchy beat, while the lyrics are centered around an alcohol- and drug-fueled night at the strip club.
The song begins with Drake describing a night in Atlanta where he visited the famous hip-hop strip club Magic City on a Monday night, the same night Future and DJ Esco host the club each week. Future then teams up with the artist, as the rappers throw up to $60,000 of cash in the air (but mostly at dancers). 
"Oh yeah, Magic City on a Monday, Esco treat that shit like church on Sunday/ N*ggas look at us like 'maybe one day', but for now a n*gga got the ones with me/ I be in the club with the bands like I got the keyboard and the drums with me/ Maybe one day, maybe one day/ You will understand how I get it though, man/ It's everything I ever said it is, mix the liquors, course, with the sedatives/ I roll up with the bands on me, this a good night to dance on me."
"I be in the club with the bands like I got the keyboard and the drums with me"
Future then enters the track, rapping throughout the second verse and shouting out to the fellow rap artists who have partied with him in Magic City.
"Last time they seen this shit it was BMF, I know Big Meech and J-Bo, they were there/ I know OG Indiana and Shuge were there, oh yeah, bust it out the wrapper blow it in the air/ Oh yeah, throw more money on a Monday than you make in a year, oh yeah, order 60,000 ones/ Told the owner 'bout to break a record hit the parking lot, it's looking like a video/ Bunch of pretty hoes, high sadity hoes/ Whole lot of Xans and we pass them around the table/ Magic City on a Monday/ We worship this like a Sunday."
The two team up for the hook, which repeats "Get a plastic bag, go ahead and pick up all the cash/ Go ahead and pick up all the cash/ You danced all night, girl, you deserve it." 
The song is an absolute club-anthem for the reckless nights spent partying and spending money. Before What A Time To Be Alive, the two recently joined forces for a summer smash, "Where Ya At."