Donald Trump Rips Carly Fiorina and Media in Latest Twitter Rant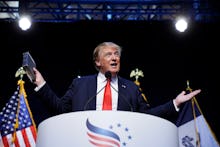 Real estate magnate Donald Trump sent out a series of tweets Sunday, slamming Republican presidential contender Carly Fiorina after new polling showed the former Hewlett-Packard CEO jumping to second place after her standout performance in the second GOP debate. The social media rant continued Monday morning as Trump also accused "the media" of being "dishonest" and using him for ratings. 
In the tweets, Trump said there was "no way" Fiorina would become the Republican nominee for president and reminded his followers of his lead in national polls. 
Trump also later criticized various media outlets, including Fox News, in a series of retweets from his supporters. 
The comments came four days after Republican candidates took the debate stage in Simi Valley, California. During the debate, Trump and Fiorina clashed over their business records. Trump called Fiorina's time at Hewlett-Packard, from which she was fired in 2005, a "total catastrophe." 
Fiorina fired back, saying Trump had sunk his casinos into massive amounts of debt. "Why should we trust you to manage the finances of this nation any differently than you managed the finances of your casinos?" she said. 
Many viewers thought Fiorina won the debate, a sentiment reflected in the latest poll numbers. A new CNN/ORC poll released Sunday showed Fiorina surge to second place in the race as voters' support for Trump, the party's unequivocal front-runner, dipped slightly. 
On Monday morning, Trump doubled down on his criticism of Fiorina during an appearance on Today. Trump tried to downplay Fiorina's recent rise with voters, New York Daily News reports. 
"She's got a good line of pitter-patter," Trump said of Fiorina. "She says the same thing over and over and over... You look at her and it's robotic." He also accused Fiorina of having a "record of tremendous failure" in her corporate work history.