Mindy Kaling Sounds Off on Why Our Grown-Up Friends Are So Important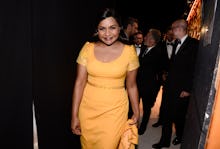 Mindy Kaling isn't afraid to be honest when it comes to writing about matters of the heart. Reviews of her new book Why Not Me? indicate that she dishes on everything from her late-bloomer dating status to her low-key love affair with an Obama aide.
But in a recent interview with People, the writer/actress got real about how crucial her platonic relationships are to her ability to function, particularly when she's dealing with anxiety. The star says she has a tendency to be "anxious and high-strung," admitting that she's regularly plagued by what she refers to as "4 a.m. worries."
The secret to not letting it all get the best of her? Her squad.
"I have very good close friends who help keep things in perspective for me," she told the magazine. "They're good about taking the minor crisis of professional work and putting them in perspective of like my life, which is nice because they've known me for so long. And without that, I would be much more anxious." 
Remembering what's important: Mindy's comments further prove what research has told us about how powerful the effects of our friendships can be, both for our health and for our romantic relationships. And, like Mindy notes, this is especially true for the never-ending roller coaster of fuckery that is navigating our careers. Who can't relate to needing to unwind after a stressful workweek and requiring the presence of a BFF (along with maybe a box or three of Franzia) to remind you that you're still awesome?
If someone like Kaling, with her hilarious sitcom and two kick-ass books, is stressing out over the "crisis of professional work," then chances are none of us will ever be rid of that pesky tendency to get overly stressed out about our careers. But if we're lucky, our friends will always be there to snap us out of it.
h/t People