Teen's Viral Hashtag Is Challenging Western Beauty Standards About Middle Eastern Women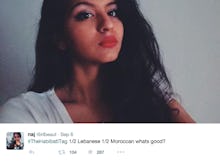 Over the past two weeks, Middle Easterners, South Asians, North Africans and Arabs across the globe have been tweeting photos of themselves using the hashtag #TheHabibatiTag.
Derived from the Arabic term for "darlings" or "my loves," the campaign — which was launched in early September by 17-year-old Palestinian American writer Sara Mahmoud and a group of her friends — is meant to promote "pride, positivity, love and respect," both within and outside those diasporas.
Though it was originally conceived as a gender neutral platform, #TheHabibatiTag has provided a forum for women in particular to share images of themselves that challenge white, Western beauty standards and showcase their diversity.
It is also a pushback against the not-so-latent Islamophobia that defines many aspects of Western life. 
"The hashtag is relevant in the American political climate because Islamophobia and bigotry still exist and thrive, specifically in the GOP," Sara Mahmoud told Mic via email. "For some reason ignorance is encouraged towards the entire Muslim community. And because of this, it extends towards Middle Easterners who aren't Muslim as well. Personally, the majority of negative remarks I receive are stationed around the assumption that I'm a Muslim, which I'm not."
This past week alone, two presidential candidates have expressed or endorsed anti-Muslim sentiments. Donald Trump said, "We're going to be looking into a lot of different things," after an audience member at a town hall meeting told him, "We have a problem in this country, it's called Muslims," and asked what Trump planned to do about the "training camps growing where they want to kill us". Dr. Ben Carson said he "would absolutely not agree" with a Muslim president of the United States.
Both statements came shortly after the anniversary of the Sept. 11 attacks on the World Trade Center, which marked the beginning of a spike in hate crimes against Muslims and people misidentified as Muslims in the U.S. They also arrive amid an ongoing refugee crisis that has forced 7.6 million Syrians to flee their homes and seek refuge in the surrounding nations and Europe.
The importance of reaffirming messages in the midst of these events is evident in the hashtag's reach. People from a remarkable variety of lineages have added their voices: Palestinians, Emiratis, Moroccans, Algerians, Kurds and others. All have taken full advantage of this opportunity to showcase forms of beauty that mainstream Western standards so often ignore.
"I want people to learn and appreciate the diversity in MENA," Mahmoud told Mic. "Men, women, nonbinary, straight, gay, transgender [et cetera] — there is so much more than what is perceived in western media. And we deserve more recognition for the beauty of our diversity."
UPDATE: This article has been updated to include quotes from Sara Mahmoud.
h/t Mvslim