Jon Stewart Says He'd Consider Leaving the Planet if Donald Trump Wins Election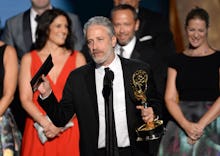 Comedian Jon Stewart said he's outta here should Republican presidential candidate Donald Trump win the presidency. The former Daily Show host, who walked away from Sunday's Emmy Awards in Los Angeles with several awards, including one for outstanding variety talk series, said a Trump presidency would mean the world had "gone bonkers" and he couldn't stick around to see that happen. 
During a backstage press conference, Stewart, 52, was asked whether he would consider reclaiming his post at Comedy Central's The Daily Show should the billionaire businessman become president, Entertainment Weekly reports. "No, I would consider getting in a rocket and going to another planet, because clearly this planet has gone bonkers," Stewart joked. 
Trump has continued to lead the Republican party in national polls by a wide margin. However, the most recent polling shows presidential contender and former Hewlett-Packard CEO Carly Fiorina gaining on the GOP front-runner. 
Stewart left The Daily Show in August after 16 years on the job. In his final appearance, Stewart warned his audience to be aware of the "bullshit" that pervades politics and the media, subjects that defined Stewart's Daily Show career. 
During Sunday night's backstage interview, Stewart also talked about his Daily Show successor, South African comedian Trevor Noah, whose first episode airs Sept. 28. 
Stewart said he wouldn't interfere with Noah's show, but that he was available should Noah feel like talking. "He's such a talented guy, and has such a great foundation for this that it's not a question of giving him advice, it's just being there to support if he ever feels like just chatting about what it's like to do the show," Stewart said, Entertainment Weekly reports. "He's got the best team in the business... Last thing they need is the old pope peering around the corner to new pope going, 'Is that how you're gonna bless the wafer?'"