Stella McCartney Made the Kind of Pretty Mastectomy Bra So Many Women Need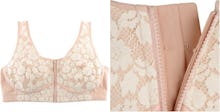 At long last, a high-end designer has created a beautiful, feminine post-mastectomy bra. 
Stella McCartney has created a post-double mastectomy compression bra, and it's an emotional tribute to survivors. The British designer's mother, Linda McCartney, died in 1998 after a three-year battle with breast cancer. Now, Stella has created a welcome, feminine alternative to the usually stark white or light nude-colored post-surgery contraptions available for women who've undergone mastectomies.
"We want to deliver on all fronts by providing technical support and comfort while women heal, without sacrificing on style, fashion, femininity and fit," McCartney told Vogue. "We wanted to give all of that to the woman who is battling through this."
Named the Louise Listening bra, after Linda's middle name, the pink and white lace garment is created for recovering double-mastectomy patients in mind, with no underwire, a front-zip and deep sides that allow for proper compression and healing before the patient potentially undergoes reconstruction or introduces prosthetics. 
"We wanted to bring something feminine and beautiful into a bra that is taboo," McCartney told the Telegraph. "There are so many different emotions attached to the tragic realities of having had a double mastectomy, many cultures are unaccepting and terrible things happen to women both physically and emotionally."
"We just wanted to make something that allows women undergoing this to have something to be proud of, something with no shame attached," she said. 
The bra's price is £85, or about $131 . According to the Telegraph, the designer is currently accepting preorders before the bra goes on sale on Oct. 1 exclusively on StellaMcCartney.com, with all proceeds going to the Hello Beautiful Foundation's efforts to build a new breast cancer support center in London. 
There's still a long way to go. The taboo McCartney refers to is often a silent one, with some women who've undergone mastectomies feeling ashamed of their changed bodies and the lifestyle changes they can bring. Unsurprisingly, women may face higher rates of anxiety or depression after mastectomies.
That isn't helped by the lack of bras available for women with breast cancer. Although more than 230,000 women will be diagnosed with breast cancer in the United States just this year, and 93% of early stage patients and 73% of late-stage patients will seek surgical treatment, according to Cancer.org, these sorts of bras haven't hit the mainstream market — and what is out there is often downright ugly.
One brand fighting the stigma is AnaOno Intimates, which specializes in attractive, affordable bras for women who have had surgery related to a breast cancer diagnosis. Founded by Dana Donofree, who underwent a double mastectomy at just 28, AnaOno carries pretty lace numbers and sports bras with varying fits and styles for different stages of recovery, from healing to reconstruction and prosthesis. 
According to its website, the brand donates 5% of all sales to breast cancer foundations. 
The latest of in a line of do-good styles: Now Stella McCartney is one of the few high-end household names offering women another — pretty! — option.
Last year, McCartney launched a campaign with model Kate Moss to raise awareness during Breast Cancer Awareness month in October, which included a series of photographs with Moss posing in a hot pink lingerie set (with a pink breast cancer awareness ribbon over her nipple, of course). A percentage of every set sold was donated to the funding of a new breast screening unit at Royal Liverpool Hospital's Linda McCartney Center.
McCartney's intention wasn't just fundraising, but activism.
"I wanted to remind women that when they wear this set, the first thing they put on in the morning, to keep on top of their health and visit their doctor regularly," McCartney posted on her website. "We decided to make something stylish, with an eye-catching pop of colour so that even just opening your drawer and even if you see it and don't wear it, it's a reminder."
Just last week, the designer announced a new cancer awareness campaign, No Less a Woman, alongside a new set of lingerie for breast cancer awareness month that donates all proceeds to the Linda McCartney Center, the National Breast Cancer Foundation in the United States and the National Breast Cancer Foundation in Australia. 
When it comes to post-mastectomy bras, fit is especially essential. We don't know yet how McCartney's offering measures up to other products out there, despite its luxury label.
But with more online stores like AnaOno and well-respected designers like Stella McCartney working to remove the stigma against mastectomy with bras that respect women and their bodies, mainstream retailers may start to listen. The more options that treat breast cancer survivors as the sexy, feminine, strong women they still are, the better.
h/t The Telegraph