Fetty Wap New Album 2015: Track List, Album Artwork and Online Streaming Options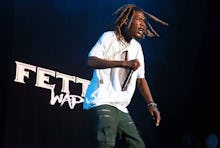 Fetty Wap exploded onto the American music scene this year with jams like "Again" and "Trap Queen," but has yet to release a full album — that is, until now.
His self-titled debut album is finally on its way, arriving in the iTunes store Friday. A deluxe version of the album consists of 20 songs with multiple features from fellow artist Monty, as well as one track from M80. 
The "679" rapper released his album artwork in a video trailer Aug. 26 that shows the artist on tour and behind the scenes signing autographs and thanking his fans.
Below is the full track list for Fetty Wap, with the first 17 songs included in the regular edition of the album:
Standard edition
Deluxe edition
While Fetty Wap might be a newcomer to the hip-hop industry, he's been on a fast-track rise to fame, performing at the 2015 MTV Video Music Awards and being honored with the Artist to Watch award. He also recently appeared on The Tonight Show Starring Jimmy Fallon and performed at the BET Awards.
Fetty Wap is available for pre-order on iTunes now.